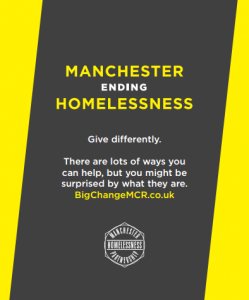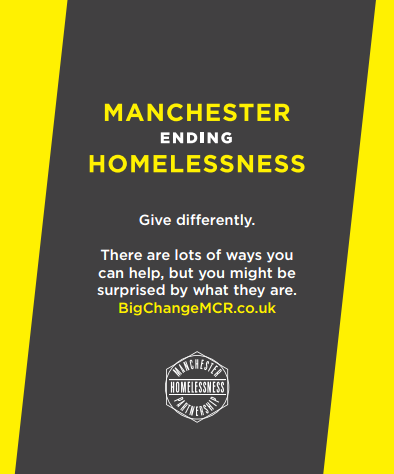 Big Change  launched a new campaign today, asking people to 'give differently' to support people who are homeless in Manchester.
The poster campaign will be seen publicised citywide on digital screens, to encourage people to donate money to Big Change to pay for practical items to help individuals get off the street, and also give items, time or money to help local organisations.
Big Change makes sure public donations to people who are homeless are used in the most effective way possible to help individuals build a new future. Although giving money to people begging on the street seems supportive, it doesn't help individuals get away from sleeping rough, or address the complicated range of reasons which made them homeless.
By working in partnership with charities and organisations providing frontline services for homeless people, the Big Change Fund pools together opportunities to make long term positive changes towards ending homelessness.
Find out more about why Big Change matters, and how the fund works here.
Since January this year Big Change has disbursed £8,042  to help 52 people.
Here are just 5 examples of how the money has been spent to help those in need, (names have been changed to protect people's identity):
Donate to Big Change and share the Big Change campaign with your family and friends!
#BigChangeMcr