It is heartbreaking to see the rising numbers of people on the streets of Manchester, and really hard to know what to do to help.
To add to the confusion, people who we see begging are not necessarily homeless, and others who are homeless may be in hostels, sofa-surfing, in squats or in substandard temporary accommodation.
Each time we give money, out of kindness and to show we care, we might be contributing to them staying on the streets, rather than getting them the help they really need to move on to a better life. It's a really difficult situation.
Mooch is a street buddy volunteer with Riverside, and has been homeless himself. He spends his time speaking to people who are begging to understand their situation and connect them to services that can help them. He told us:
"Giving money is causing a lot of violence – people getting beaten up, all their money being taken off them, even their clothes. How do people know what the money they give is for? I know a lad who begs for money for his digs in Oldham for £28, but a lot of it is for drink and drugs. You can't blame them."
Other ways to give
Big Change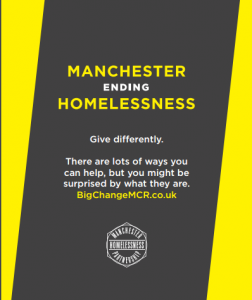 started in Manchester as an alternative way to give money to help individuals who are homeless. The fund is used to buy practical items that individuals need to help them get off and stay off the streets – from flat deposits, to training costs, and transport to job interviews.
A panel including people with experience of homelessness decide how the money is spent, and all the money is spent directly on items for individuals who need it. Anyone who is homeless can apply, through any of the partner agencies.
You can find out more about Big Change and how the money is spent here.
Mooch says: "I tell one of my ex wives to save up the change she would give and give it to me. I make sure it goes to something I know will definitely help, like through Big Change or Coffee4Craig."
Donate to Big Change NOW through JustGiving.
There are other ways to help in our Give Help section – responding to organisations callouts for help, or registering your interest as a volunteer so that organisations can contact you when they need help. There are a few more ideas in this article: What is needed?
Helping an individual
If you would prefer to help an individual directly, it is important to know what options are available, and ideally help them to access services where they can get expert advice and support.
You can find out what services are available in Manchester to support someone who is homeless via our Find Help section, or by downloading the Street Support app.
We asked organisations working closely with people who are homeless what they would advise in different situations, here are there recommendations…
For someone recently homeless:  Make sure they know their options for getting support through our Emergency Advice section. The drop in centres are the best place to get accurate advice and long term support to help someone to move away from the streets, whilst also providing food, warmth and other services. You can help someone to know what options are available through our timetable of drop in centres.
For someone who wants food: You can help them to know where to get food each day using our timetable of meals. There are also plenty of groups that do outreach giving out hot food, and many individuals buy extra food from shops to give.
For someone who wants money for transport: Big Change can help with transport costs for getting to accommodation or job interviews etc, or if someone wants to reconnect with family, and have an address to go to, Booth Centre can help. Coffee4Craig can also provide Megabus and train tickets for anywhere in the country or even to the EU, if someone needs to get home.
For someone needing accommodation: Unfortunately money is not the main blocker for finding somewhere to sleep. There is a massive shortage of affordable housing and emergency accommodation, and extremely limited options for someone who is homeless to get a room even if they have money. The hostels and B&Bs that accommodate people who are homeless are referred into, and are paid through benefits.
The emergency accommodation and substandard temporary accommodation charter action groups are working together to find solutions for this. If there's anything you can do to help with us providing more accommodation in the city that would be amazing – from volunteering at the winter night shelters, to offering a building that could be used to provide support.
It is so hard to see that someone is in a bad situation and not be able to help – we struggle with it ourselves every day. In the end it is a personal choice to make, but there is a real risk that giving money might increase the time that person is on the streets, or contribute to dependency and addiction problems.
By helping someone engage with services, or by giving through Big Change, you can be sure you are making a positive difference.
Find out more ways to help at streetsupport.net/give-help.
#EndHomelessnessMCR