It's hard to believe it is 6 months since Manchester Homelessness Charter launched,  yet so much has happened that it feels like a lifetime.
We are all very aware of the very difficult situation faced by those who are experiencing homelessness in the city, and are impatient to see change. However we also know how important it is to include a diverse range of people, to allow time for relationships to develop, and to enable ideas to emerge from a shared understanding.
Last Monday we all gathered together to reflect on where we are, what has been achieved so far, and where we want to focus our efforts next. Seeing 100 people in one room together from different parts of this partnership working together towards a common vision, that alone shows there is something really special happening here.
We are working on gathering and sharing news from that day, so watch out for updates on that in the coming days (you can view photos from the day here). In the meantime, it felt a good time to reflect and celebrate what has been achieved so far.
Involving people with lived experience through Action Groups
From the start we have held a strong conviction that how we do this is the key to things really changing, at a deep level .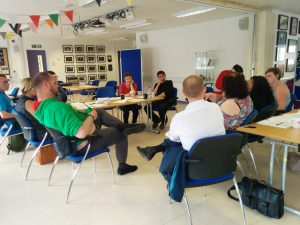 Co-production is central to everything we do – involving people with lived experience at every level of this work. Over 90 people with lived experience of homelessness have been involved in the action groups so far, and we are working with hostels and other services to ensure more voices are heard in the coming months.
The Action Groups are the heart of the charter work – groups were formed around issues that people who are homeless said were major challenges and causes of frustration for them – from the experience of presenting as homeless at the town hall, to evening services and emergency accommodation, to issues around mental health and for young people.
People with lived experience of these issues and experts from the relevant organisations are working together to find solutions that work for everyone involved.
When those groups need something, they request help, either through Street Support callouts for help from the public or businesses, or through the newly formed Partnership Board.
Working together as a partnership
This partnership way of working is new for the city. It is pioneering, often challenging, and we are finding our way as we go along.
Bringing together individuals who have been homeless, council decision makers, representatives from the voluntary sector, businesses and universities is not easy, but it is essential if we are to see real lasting change.
As Jez Green describes it… "The partnership board provides a model of stewardship, protecting the co-produced partnership work that is already being carried out under the Charter. Its key role is to listen to stories, experiences and challenges from the charter action groups, and to use its influence to help remove systemic blockages."
That is radically different from how a board traditionally works. Instead of a strategic body that dictates policy and plans to the groups that do the work, in this case the action groups will make requests for support from the partnership board. This itself is radically different from anything we have done before in Manchester.
You can find out more about the charter Action Groups and the Partnership Board on the charter site: charter.streetsupport.net.
How the charter is making a difference
A lot is already happening behind the scenes, and everyone is keen to see visible change happen quickly. We want to do more to track and communicate these outcomes ongoing, and looking at ways to increase our capacity and find resources to support the process.
Here are some examples of what has been achieved so far…
New morning service trial at St Ann's on a Friday morning 7-9am for people removed from doorways.

Coffee4Craig evening service moved indoors on a Sunday including access to showers, working with YPSF.

Women with experience of using homelessness services have been involved in the women's DA redesign.

Winter night shelters open for 6 months in churches across the city.

New minimum standards for emergency accommodation have been co-produced.

People who have presented as homeless at the town hall are working alongside staff and decision makers to redesign the process.

Two outreach volunteers with lived experience are working with CityCo on a plan for businesses leaders to join street engagement sessions around the city.

Over 130 pledges from across the city including service providers, universities, businesses, and individuals.

33 pledges to support people towards employment from businesses.

CityCo have shared the work of the partnership with over 1,000 city centre businesses including monthly updates. They have also hosted engagement sessions for businesses, reaching out to 320 individuals in businesses.

University collaboration which includes students ceasing to give out food on the streets for the first time in 30 years, and volunteering in other ways that are really needed.
Find out more about the Charter and make a pledge at charter.streetsupport.net
#EndHomelessnessMCR