How did you become homeless?
I'm not originally from around here, but I came to get away from a violent situation. So, that's how I ended up on the streets of Manchester.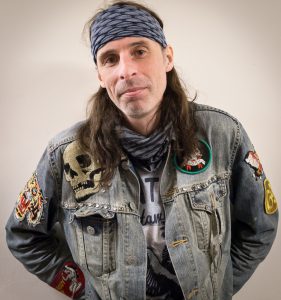 What were your experiences of life on the street?
When I first came here, of course I was very scared. Being homeless is a terrifying thing, especially in an area you are unfamiliar with. However, I must say that I am incredibly impressed with Manchester generally. Obviously, homelessness is not great to see anywhere. However, this area doesn't seem to sweep the problem away. I've been homeless in central London for a while, and there really is nothing similar about my experiences in the two areas.
I am absolutely amazed by the general compassion of the city. I've always had this mental policy that it's not their fault that I'm homeless, so I wouldn't expect them to solve it. There are various resources, such as the town hall, who are responsible for helping. And yet complete strangers would walk up to me and say "I'm sorry, I've nothing to give you".
I'm a very positive person. I'm not saying I giggled from start to finish, being on the streets, but it didn't distress me either. It's difficult being homeless, there are all sorts of psychological things that come with it. If you can get through those and keep your head in a good place, you're bound to end up in a good place.
What helped you get off the street?
Largely through the town hall. Occasionally someone from the council would come and do a head count of who was about. After about three weeks I decided I really must get down to the town hall and register with them officially.
Of course, resources are limited – it would be lovely to give everyone a home. But things are funded by local government, who are funded by central government, and so it's going to be limited by budget cuts. And it's also not as simple as just opening up a building to let people stay; some people may abuse that situation. There are more complex issues than that to get people off the street.
I also had a lot of support from various soup kitchens, which I heard about from other homeless individuals. People would share information like that.
What is your current living situation?
I'm in temporary accommodation at the moment, for which I am eternally thankful. This has also allowed me to get things like benefits in place, which is very hard whilst living on the street. With that momentum, I can now move my life forward.
The vast majority of homeless people don't want to be on the street. Of course, some have been in that situation for so long that it is very hard to break that cycle. But you also need to want to help yourself.
Why do you think you managed to get accommodation so quickly?
Possibly luck. Possibly being in the right place at the right time. I think what also helped me greatly is not having any habits. I don't drink or abuse drugs. I've lost a lot of friends to various substances, so I won't go anywhere near stuff like that. So, perhaps the fact I'm quite a clean-living person means that people are more willing to take me on. Of course, treating any issues like that is also a big barrier to getting someone off the street.
You see a lot of people on the street taking various substances, such as spice, on a regular basis. I can't condemn or condone them for that. Mentally, it's the escape from the situation they're in – you can't judge them for that.
What are your aspirations for the future?
I am planning to stay in Manchester; as an area, I absolutely love it. There's so much going for it. Im also looking for full-time employment at the moment.
What would you like members of the public to know about homelessness?
Don't judge; everyone has a reason for their homelessness. Each of those reasons will be different and you can't categorise people in any way. To help a homeless person really has to be done on an individual basis. Ultimately, nobody has chosen this.
You can hear more about Dusty's experiences on his blog: www.winding-road.jimdo.com
Interview by Joshua Strange. Photos by Paul Crudgington.