This isn't a blog post that is going to give you an easy answer. If there was an easy answer you would already know what it was.
This is about a deeply personal choice. It is about confusion over what is the 'right' thing to do to help people experiencing homelessness. It is about the feeling of looking another human in the eye and seeing they are suffering, but not knowing how to help. It is about being willing to give, but wondering if it might make someone's situation worse in the long term. It is about confusion, trust, judgement and discomfort. It is about being aware of the complexities of homelessness and making your own choice in each moment.
In late 2015, I got to know a man who was sleeping rough in my local area, and the more he told me about his situation, the more clearly I could see that I didn't have a clue how I could help. The only way I know how to approach a complex question is to find out as much as I can, so this became my mission – asking as many questions to as many people with knowledge or experience of homelessness as I could. How can we help? What's the 'right thing' to do? I was sure that if I asked enough questions and listened there would be a simple answer.
Over a year down the line, I feel more informed and a bit less helpless, but still with plenty of internal conflict when faced with people asking for money on the streets. I want to share what I've found out so far so you can make your own decision on what feels right.
What's the issue with giving money?
The majority of people that support people to move away from the streets advise against giving money directly. This comes from a place of genuine concern for people's well-being. It is very difficult to know the situation of a stranger – what their needs are, how the money will be spent, whether your kind donation might discourage someone from engaging with services who could really help, whether you are unknowingly enabling further substance dependencies.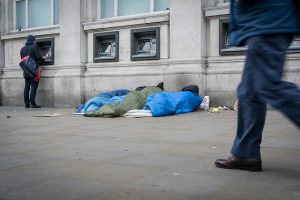 Homelessness is a complex issue – rough sleeping is the most visible form and yet there are many more sofa surfing, in squats, and in substandard B&Bs. Some of the most vulnerable people are not that the money gets to, and not everyone begging is homeless. The hostels available are generally full, and most are paid for through housing benefit, so it's rare that money given can help someone to get into accommodation (though it could be used to pay a service charge). It is not as simple as it might appear. Unless we know someone well enough to understand their situation and challenges, we can't really know whether giving money is helpful, whether it might support them to stay in an unhealthy situation.
I have had this conversation with several people who have been homeless themselves, and even they have really mixed feelings. Most will say that spare change given wasn't what made the difference in terms of turning their lives around, but that doesn't mean there isn't gratitude for those that tried to help.  Here's a snippet from one of those discussions: "I change my mind on this all the time…It's more likely than not that I'm alive because a couple of people just gave me money. Here's my point on 'expertise' –  who knows what to do – it's hardly received wisdom for AA members to hand out cash to alcoholics but at the same time a lot know what it is to have withdrawal seizures on the streets and the ambulance / emergency detox / again on street / use?/kill self? paradox." 
A separate conversation with another person with lived experience offers a very different angle: "my puppy dogs eyes say I ain't got the nice things like you have but with a little change I can get a little closer…no he can't…he gets a little closer to the dealers door".
The basic truth is every individual is unique. It's almost impossible for most of us to know when giving money could help, when it could contribute to someone staying on the streets, or even if it might make their situation worse.
Alternative: A safer option for anyone willing to give money is to Donate to a local charity or to Big Change. The Big Change fund was set up to pay for items to help individuals get off the streets – for flat deposits, energy bills, transport costs and training courses. Several local agencies can apply on behalf of an individual, and the fund is distributed by a panel that includes people with lived experience of homelessness, and representatives from the voluntary sector. Giving this way you know your donation will change something for the better.
How about giving out items instead?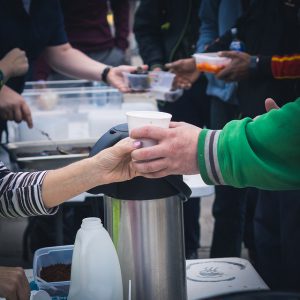 This one is really tricky. Most of us can imagine being cold and hungry, and the relief that might come from someone offering hot drinks, food and clothes. That's an amazing and simple thing we can do to help, to show we care. I had never thought beyond that until challenged by outreach workers that are out every day with people on the streets, and who have a slightly different view.
By giving food and drink out to someone without being able to offer them support or advice, that person's situation is unlikely to change. Imagine an alternative, that instead this person chooses to engage with a service who could offer expert advice on housing options or reconnecting with family, on getting help with their addictions or mental health. Often through outreach work or in drop in centres, food is used as a gateway, a way to start a conversation and build trust.
There are also many groups giving clothes, sleeping bags and tents. Again, this could feel an obvious way to support someone who has no choice, and seems a simple solution, better than rough sleeping. For those that work with people longer term, they see living in a tent isn't a sustainable and healthy way to live, and can be taken as an easier option than engaging with services offering support to deal with their issues and moving into housing and work.
Of course it is still showing kindness to give something, making some kind of connection, and I personally see value in that in itself. Sometimes buying a hot drink for someone might get them through the day, especially if it comes with a smile. That said, it feels important to be aware of the potential consequences for people's long term well-being, and to make an informed choice.
Alternative: There are many services in Manchester offering food each day alongside expert advice – you can find out what is available where and when through the Meals Timetable on Street Support. One option to consider instead is to start a conversation, find out more about this individual and what they need, check if they know about local services available who might be able to help. Alternatively you could respond to needs posted by local organisations to support them in helping more people.
So how do I decide what to do?!
When we give there are usually two things going on – wanting to help someone else, and wanting to feel better ourselves. Let's admit it – that's just how humans work! The first thing we have to keep doing is checking in with these motivations and be aware what is there. It's desperately hard to watch people sat begging on the streets surrounded by shops, restaurants and wealth. Of course we want to do something and feel better, I am glad that compassion is still alive in our city.
We hear about NGOs going out to Africa, doing something that seems kind that is never used, or even making things worse. I'm sure the intention is mostly from a good place, but the outcome isn't always helpful. Part of me feels the intention to help is something to value in itself, but sometimes what's kind and what's helpful isn't the same thing. It's not easy to accept that giving might not be helpful.
Something that comes up a lot for me in thinking about this is around judgement. In most situations with adults we try to trust and respect someone to make their own choices, in a way we might not with children. What do we do when someone has mental health issues or addiction and perhaps don't have the capacity to choose what's healthy for them? Do we respond to what they say they need, or do we go with the advice of experts who give advice on their behalf? That's an incredibly tough question, and a personal one for each of us to consider.
At Street Support we try to involve people who have been homeless in everything we do, listening to their experience and ideas. We also spend a lot of time learning from people who have been providing support for many years and understand the complexities better than we do. I still have inner conflict, and feelings of guilt and sadness when I decide not to give to someone that asks for help. My personal approach in this moment is to respond to the advice of this partnership – to work together towards the mission of Manchester Homelessness Charter, to give based on need, to donate via local organisations, to try my best to hold the discomfort I feel when I choose not to give directly.
Whatever you choose to do, I hope you can now do it with eyes and heart wide open.
#EndHomelessnessMCR
We are always open to learn from other experiences, so if you would like to share feedback you can join the conversation through Twitter or Facebook.