On 26th March, following on from a successful Christmas meal, the community initiative ForkOff held a Spring meal at a confidential location in South Manchester.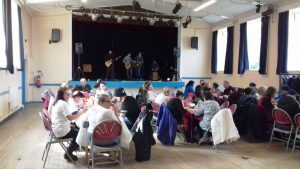 Organised for the increasing number of homeless in Manchester's city centre the event was attended by 34 people who were able to listen to music, enjoy a meal and have access to a GP, essential advice and a barber and new clothes.
"I wanted to create days where people were indoors, somewhere warm, enjoying listening to bands, being served a meal by others. For them to have a GP at their beck and call, benefits and housing advice, as well as a haircut and new clothes. Most
importantly I want our guests to feel included, to be able to socialise with friendly people and feel part of our group. This is why I pick dates of significance; Christmas, Mother's day, dates when perhaps guests are most reminded of their loneliness." Nathalie from ForkOff.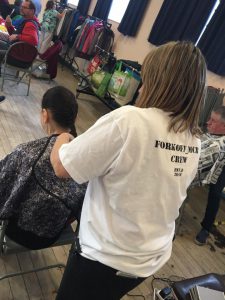 There is a recognised need for this type of service in the South Manchester area. There are several centres which have closed down, and the few which remain are all based in the city centre. With homelessness in Greater Manchester now estimated by Shelter at more than 3,200, these indoor provisions are needed now more than ever.
Guests are referred in from big charities; including the Booth Centre, Cornerstones CDS, Coffee4Craig and Reach Out to the Community; to ensure that no one is turned away on the day. All volunteers receive a short training in Mental Health First Aid and are all chosen based on how social they are.
The ForkOff ethos is 'BegBorrowBarter'. Bands donate their music, the venue is donated, the food is donated, the plates and cutlery donated via an Amazon wishlist, the chef, barber and volunteers all donate their time for free. Kind donators have been Elliot's Greengrocers, Barbakan Deli, Morrisons and Booker.
To raise funds ForkOff held a concert in Cross Street Chapel with students and alumni from the Royal Northern College of Music. The evening was well supported, raising £600 which will enable transport for a further four events.
"We have happily supported ForkOff for our people. We recognise that these times of year can be where some people feel at their loneliest." Amy from the Booth Centre.
"The support we have received and the partnerships we have formed have made all this possible, it has been humbling to meet people who are so happy to come to our events. We are very grateful to be able to do this for them. The next project is to tackle homelessness at its roots, with training for Care Leavers launching later this year". Nathalie adds.
Dates for the ForkOff Summer meal are to be confirmed for June 2017.
For more information: forkoffmcr@gmail.com
Twitter @ForkOff_Mcr
Facebook https://www.facebook.com/ForkOffMcr/