In February we shared with you the fantastic work and developing relationship between Manchester City Council and those who use its homeless services, and the £1m funding available to help tackle homelessness in Manchester.
More than 40 people attended a workshop to start the discussion on how the £1m funding would be best spent with maximum benefit to those most affected. Catch-up on the workshop here.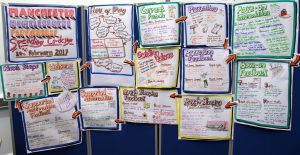 Just two months later we're delighted to share the progress that has been made since our last update. Main updates include new training for council staff, a new outreach coordinator to organise all outreach services across the city, and how the Resettlement Action Group are piloting a new approach for those currently in temporary and supported accommodation who have complex needs.
Preventing Homelessness Action Group
Recently the Presenting as Homeless at the Town Hall Action Group decided to widen its focus to become the Preventing Homelessness Action Group. The group have supported the Council's homeless services and its new 'housing options' pilot, which provides a tailored approach to meet the needs of individuals.
There have been new advice leaflets developed and crucially the Council's homeless staff in the Customer Service Centre have all received training in how they approach their duties to ensure that they work positively with people who are homeless.
The Action Group was given information about the reasons why people present as homeless to the Council and the numbers of people in those categories who are subsequently accepted for a full homeless re-housing duty. A high number of people gave 'prison discharge' as the reason why they were homeless but didn't then get a full homeless duty. The Action Group will be targeting this cohort to try and improve prevention of homelessness.
Outreach group
In other updates, the outreach group will be recruiting an outreach coordinator role to organise all outreach services across the city, a 'day centre' approach will be implemented for evenings and weekends and conversations are ongoing to find a suitable building for this indoor service.  A plan is also being progressed to provide bed spaces in Woodward Court especially for rough sleepers.
The Hub
Progress has stalled due to the Elections. Conversations with the DCLG for the funding for the Hub are ongoing. The outcome to these
conversations was delayed until after the Mayoral Elections, and it is possible that they will be further delayed due to the General Election. The Group has been busy working with architects and urban planners understanding what could be included in the Hub, and have been identifying suitable buildings. As soon as there is confirmation from DCLG on the amount of money available for the Hub, work will continue.
Resettlement Action Group
Ten people attended the first meeting last month (14th March), including three people with lived experience of homelessness. The group agreed to pilot a new approach, by focusing on those currently in temporary and supported accommodation who had complex needs (but below the threshold for Housing First). These people might be finding it difficult to move-on, perhaps already with a previous failed tenancy, or a history of repeat homelessness.  A key feature of this new approach would be the recruitment of people with lived experience and the use of peer mentors/volunteers.
It was felt that people needed to be supported better into their local community as well as into opportunities for work and training.  It was decided no time limit would be put on the support available and the aim is to gradually disengage as local and other support networks are established. There must also be the option of returning to support if needed.
To find out more about Manchester Homelessness Charter visit www.charter.streetsupport.net 
#EndHomelessnessMCR