Have you heard the name Patrick O'Connell, or 'Don Patricio' as he was known?
He begged on the streets of London and died penniless and homeless. He was buried in an unmarked grave.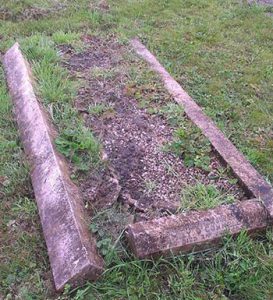 But before that he was Captain of Manchester United F.C. and the Saviour of FC Barcelona.
His amazing life story is now being told.
On June 20th the National Football Museum in Manchester will launch the Don Patricio story, which will run until Sept 2017 in the city where he led The Reds. Entry is free.
Here's the history and how Patrick's name has been resurrected, told by Fergus Dowd of the the Patrick O'Connell Memorial Fund in Ireland:
'My Grandfather has lay in an unmarked grave for 55 years'; these were the words I heard uttered by Mike O'Connell on April 5th 2014 in Blyth Spartans clubhouse. Mike was talking about his Grandfather Patrick to fans of Spartans and the red blooded fans of FC United of Manchester on the day.
The Grandfather who had captained Ireland to their first football title the British Home Championship in 1914,was the first Irishman to captain Manchester United and had begun his managerial career down the road at Ashington where the names Milburn and Charlton roll off the tongue.
A managerial career which would see him guide unfashionable Real Betis Balompie to a La Liga title in season 1934-35,he would also be the first man to also manage rivals Sevilla and would go onto save FC Barcelona from financial ruin in 1937.
I had organised the event at Croft Park home of Blyth Spartans in honour of former Spartan Scott Bell who had sadly passed away from Motor Neurone Disease. Scott was a fans favourite during his time at Croft Park and it was terrible to see such a young man be taken from us by such a terrible disease. Mike whose wife Sue suffers with multiple sclerosis had been delighted to support the event along with Geordie legends Mick Martin and Olivier Bernard and SAFC FPA Chairman Maurice Hepworth.
As Mike spoke about his Grandfather I felt as a football fan then and there to help in whatever way I could.
Patrick born in Dublin,Ireland(1887) had begun life in football as a teenager playing for Liffey Wanderers F.C. whilst working at Bolands Mills. The family of twelve lived in a two up two down on the north side of Dublin in the shadow of the athletic grounds now Croke Park Ireland's national stadium.
By age fourteen he had become a foreman at the mills showing his future leadership skills whilst on the football field he won the Empire Cup with Liffey three years in a row 1904-05-06. In 1908 Belfast Celtic came calling and Patrick initially a striker scoring a hat trick at Windsor Park against Linfield F.C. was converted to a ball playing centre half. His defensive skills led him in 1909 across the Irish sea to Hillsborough the home of First Division Sheffield Wednesday F.C. Following three seasons at Hillsborough he found himself surplus to requirement and was transferred to Boothferry Park Hull;City were then in the second division.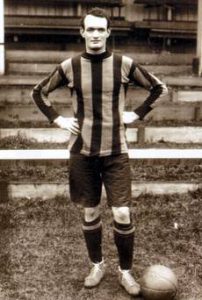 Whilst a Hull City player Patrick had become an Irish international and in the British Home Championship of 1913/14 he captained Ireland to victory over Wales in Wrexham;following this Ireland defeated England 3-0 at Ayresome Park home of Middlesboro.
In the final match v Scotland at Windsor Park Patrick had played the whole of the second half with a broken arm,there were no substitutions in those days so Patrick played on through the pain barrier. The Scots had led for the most of the match but the Irish equalised with a goal setup by O'Connell – Ireland were champions conquering all in front of them and in essence world champions as this was pre FIFA. The 1-1 result enabled Ireland to clinch their first ever football title and the team were presented with gold watches for their efforts.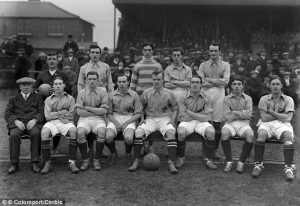 Patrick's outstanding displays were noted by the board of Manchester United F.C. and a fee of £1,000 was agreed with Hull City F.C. for his services. This was an astronomical fee at the time so much so United paid Hull the fee in installments. Patrick became United's captain in 1915 the first Irishman to captain the club a forefather for future Irishmen who would star at the club like Best,Whiteside,McGrath,Moran,Cantwell & Keane.
Mr. O'Connell was now the first Irish thousand pound player but his family only saw £4 of that fee and lived amongst the community in Blackley in Manchester. Patrick worked at Ford Motors in Manchester during the summer as footballers were not paid during the off season.
WW1 interrupted life for O'Connell at United as football was suspended he traveled all over the country to put bread on the table. As the war rumbled on O'Connell found himself lining up for Clapton Orient,Rochdale AFC and Chesterfield. Following the war Patrick found himself in Scotland playing for Dumbarton football club this put a strain on his family relationship as his wife and family remained in Blackley.
In 1921 Patrick joined Ashington FC the home place of Sir Bobby Charlton he was player manager leading the club into the football league. In 1922 Fred Pentland recommended Patrick O'Connell to Racing Santander a club in North Spain – Pentland had left Santander for pastures new.
Prior to leaving Patrick met his wife at Newcastle train station his wife and young family did not want to go to Spain – so they agreed to go their separate ways all the family knew of Patrick was when the letters would arrive to Blackley with pesetas in them. As the catholic church ruled with an iron fist in the 1920's divorce was out of the question.
O'Connell's reign saw immediate success as he led the club to five regional titles between 1923 and 1928.
Patrick and Santander became founding members of La Liga in 1929 after winning through a play off system to gain entry to the first ever La Liga played for in Spain. O'Connell and his small club were amongst the elite of Spanish football and he had put Santander on the footballing map.
O'Connell headed for Oviedo in 1929 nurturing Isidro Langara the Basque who would end up becoming the first man to be leading scorer in the premier divisions in leagues in three different continents.
By 1931 he had arrived at Real Betis Balompie a club languishing mid table in the Spanish Segunda Division.
This was all to change as Patrick led Betis to a club with an average attendance of 1,500 to the second division title in season 1931-32. By season 1934-35 Betis were Kings of Spain piping the mighty CF Madrid by one point – O'Connell was carried shoulder high through the streets of Seville during the celebrations.  Real Betis Balompies have never won a La Liga Championship since O'Connell's heroics.
In 1935 Josep Sunyol the then President of FC Barcelona installed Patrick as manager of the Catalan giants.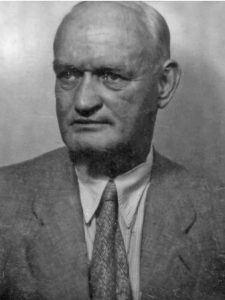 Patrick's first season saw Barca win the Championship of Catalan and were runners up to Real Madrid in the Spanish Cup Final the last match played before the Spanish Civil War. The Cup Final was the original El Clasico with Madrid keeper Ricardo Zamora who would later be honoured by General Franco with the Great Cross of the Order of Cisneros denying FC Barcelona a last minute equaliser with an unbelievable save.
1936 saw the Civil War in Spain break out,whilst holidaying in Ireland Patrick received a telegram from FC Barcelona stating they understood if he didn't return but he did.
By August Josep Sunyol had been assassinated by Francoists as he returned from a meeting in Madrid. FC Barcelona faced financial ruin as the city was bombed constantly – O'Connell and his team played in the Mediterranean League travelling to away fixtures by night for fear of death;the league was formed by clubs who supported the Republican cause. O'Connell and Barca succeeded in winning the league and got a call from heaven when a Mexican businessman Manuel Mas Soriano invited the club to tour the Americas playing exhibition games in Mexico,New York and Cuba.
On the refugee ship Mexique with Patrick which sailed for Mexico was Ramon Zabola – Ramon was born in Tyne Dock, South Shields to Basque parents and his Dad was a trader in chemical products and also the Spanish Counsel based in …Blyth!!
Ramon's Father's work took him back to Barcelona and Ramon eventually found himself being signed by English manager James Bellamy at FC Barcelona and also served under John Greenwell before O'Connell arrived. The family whilst in the North East lived at 51 Wensleydale Terrace Blyth a stones throw from Croft Park.
The tour known at Camp Nou as the tour of salvation was a huge success yielding $12,900 which was wired to an account in Paris as General Franco had frozen all of FC Barcelona's bank accounts. Patrick returned to Barcelona with only four players as the rest of the squad absconded the majority remaining in Mexico – O'Connell rebuilt the team and they won the Lliga Catalan of 1938.
O'Connell was eventually forced out of Barcelona in 1940 he returned to Spain after a pardon from the King of Spain who was a huge football fan and knew of O'Connell's football genius. He returned to Seville where once again he won the second division with Betis and led Sevilla to second place in La Liga in 1945 – he finished off his managerial career where it all began at Santander leading them to the third division.
Sadly Patrick had managed during the Civil War and the second world war he hadn't made much monies out of the game. On his return to London in the early 50's alone he drew national assistance and begged on the streets of London,Patrick found refuge in an attic in a boarding house on Argyle St. close to St. Pancras Hospital.
Patrick's hopes of securing a job in English football never materialised and as the cold grey waters of the Thames rippled Patrick's days were spent drinking to kill the pain and the loss of football the only thing he knew.
Patrick O'Connell died aged 72 in 1959 from pneumonia he was taken from the attic to St. Pancras Hospital – 'Don Patricio' as he was commonly known in Spain was buried in an unmarked grave at St. Mary's Cemetery,Kensal Green,London.
Following on from Mike's speech at the Spartans clubhouse – Spartans fans Fergus Dowd,Simon Needham and Alan McLean founded the Patrick O'Connell Memorial Fund at the Belfast Celtic Museum in Aug 30th 2014.
The goal of the fund endorsed by Mike O'Connell was to raise funds to give Patrick a proper memorial at St. Mary's Cemetery.
Fundraising began by inviting former and current footballers to support the fund by donating signed shirts by the end of 2014 over 35 signed shirts lay in the museum donated by the likes of Sir Bobby Charlton,Franz Beckenabuer,Luis Figo,Paolo Maldini,Patrick Kluivert,Oliver Kahn and the late great Johan Cruyff the first supporter to name a few.
In January 2015 I sent an email to member of the Irish parliament Maureen O'Sullivan who represents Dublin Central. Maureen threw her full support to resurrect Patrick's story a unique politician and an amazing lady who makes things happen.
On June 5th 2015 Patrick was honoured by Dublin City Council with a plaque in honour of his football achievements this was the first of a new scheme unveiled by Mike O'Connell,Martin Buchan ex Man United and Maureen O'Sullivan MP for Dublin central the area Patrick lived in.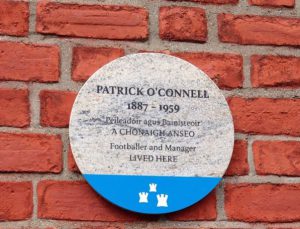 In Belfast the 'Patrick O'Connell' mural sponsored by Crown Paints was unveiled by the Lord Mayor of Belfast Mr. Arder Carson on the Falls Road in Aug 2015.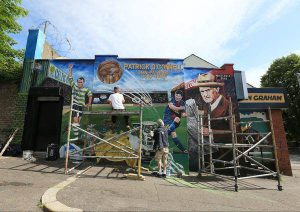 Following this on the 30th Dec 2015 Patrick was inducted into the Camp Nou museum by President Josep Maria Bartomeau the man who had saved the club was finally honoured in the Presidential Suite in Camp Nou,our fund members attended the event.
In Seville at Real Betis football club on March 3rd 2017 a bust of Don Patrico as he was known to the locals was presented to Angel Haro the President of Real Betis in front of 30,000 spectators.
On May 12th on Albert St. in Belfast the man who saved FC Barcelona was honoured with a blue plaque by the Ulster History Circle where his professional journey began as a Belfast Celtic player. The Dubliner who walked the dark streets of London penniless and without a fixed abode has now joined an exclusive club with the likes of Oscar Wilde,Robert the Bruce,Winston Churchill and Sir Bobby Moore pillars of society who have been bestowed this honour.
Finally on April 28th 2016 81 years after leading Betis to the promise land Patrick O'Connell got a proper memorial deserving of his football genius.
On June 20th the National Football Museum in Manchester will launch the Don Patricio story 80 years after Patrick led Barca to salvation which will run until Sept 2017 in the city where he led The Reds. Entry is free.
From the clubhouse at Croft Park it has been an amazing journey resurrecting the one known as Don Patricio and in the words of a famous Mancunian musician 'For Everything a Reason'.
Fergus Dowd.