The Homelessness Charter Mental Health Action Group had a great session recently and we want to keep you updated and share the key findings from the session.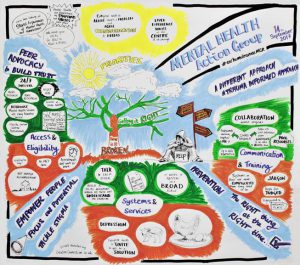 The Action Group met on the 14th September at MadLabs on Edge Street over lunch. The session was about coming together as a full Mental Health Action Group to focus on the three key themes that had emerged.
Key three themes included:
Access and eligibility
Systems and services
Communication and training
Breaking the session into three smaller groups, the room was a hub of discussion on each theme and the conversation followed specifically the following areas:
What's broken
How is it broken
How to fix it
There were many fantastic outcomes, which included building trust, tackling stigma and prevention by offering the right support at the right time. You can see more of the outcomes in the photo above and by reading more information here.
We'll keep you posted on all developments as the group progresses.