We're still feeling joyful about the second Raising Bee event that we held at Code Computerlove on World Homelessness Day last week. On that subject, the third one is coming up on Tuesday 7 November.
As Street Support Network, part of Manchester Homelessness Partnership and the GM Homelessness Action Network, we have a backlog of tasks requested by people experiencing homelessness and frontline workers.
We need help from the Manchester digital community to work together developing these features to support the great work they all do.
Summary of the event
The turnout was amazing. We worked together to tackle some of the activities that Street Support Network undertakes to support homelessness organisations in Manchester (and beyond!).
We split into three groups, focusing on:
Communications and marketing
Website/app development
Community support
We managed to complete several tasks. This included the volunteers call-out for the Manchester Homelessness Partnership through email and blog post, as well as several other news articles. We also determined the direction we need to take in making this community sustainable.
Feedback for improvement included better organisation surrounding the tasks that need to be completed, getting the developers set up before the event, and prior access to the Street Support Trello board for volunteers.
We promise we're working on making this all better for next time!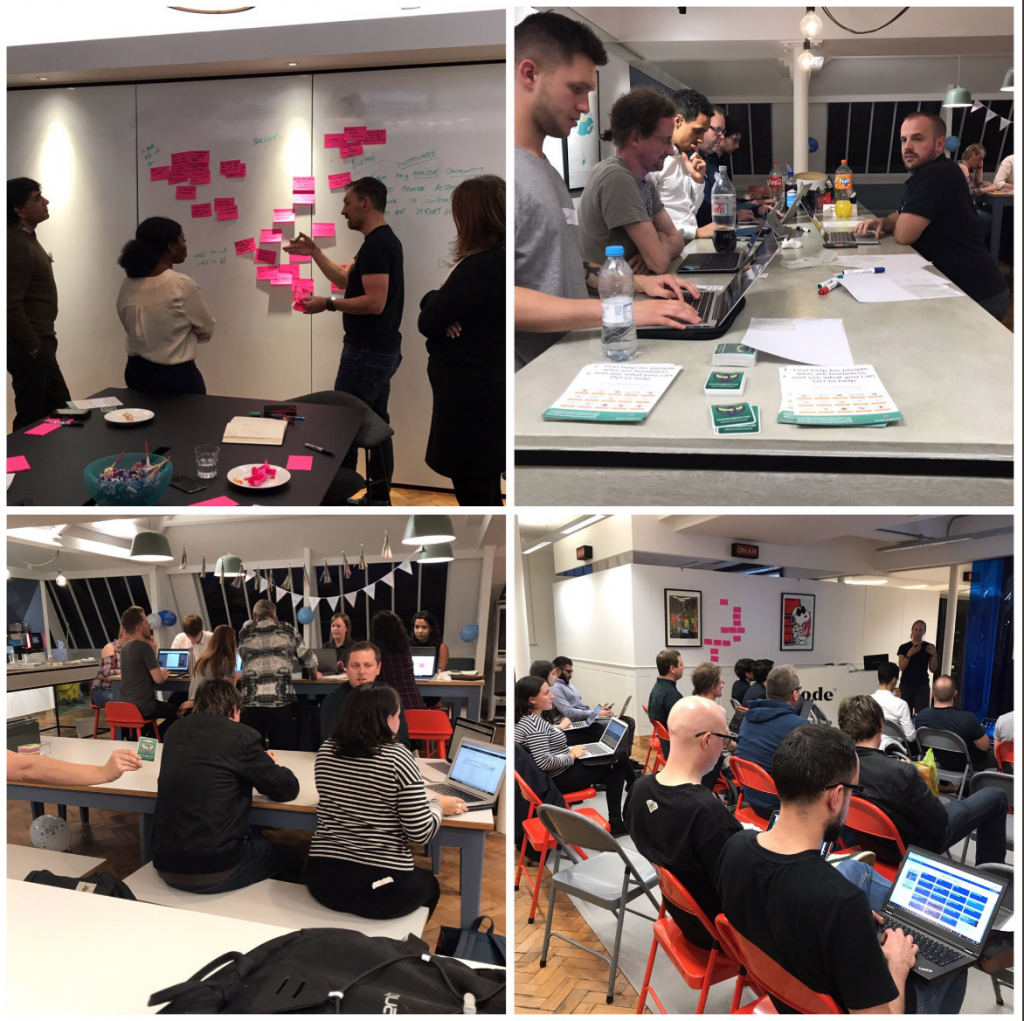 Image via Kevin Murray
What is the Raising Bee
The Raising Bee is a chance for members of the digital community in Manchester to get together and pool their resources to help homeless people.
While we welcome new ideas, the focus of these events is getting stuff done! We work together in small groups on bite-sized tasks, and are also co-creating this community in terms of how it works, culture, processes and tools.
We have a list of tasks to be completed for the website streetsupport.net and our app. These have been requested by people experiencing homelessness, frontline workers and MHP action groups.
Why the Raising Bee came about
We need help from the Manchester digital community to work together and develop these features so we can help the helpers! Everything you do at the Raising Bee is 100% useful for those on the frontline.
After the Manchester Homeless Hack in June 2017, we wanted a sustainable way for the community to keep volunteering. The Street Support Network offered the perfect platform to facilitate this.
Wider community engagement
There was brilliant engagement on social media, and it happily coincided with the launch of the new Cheetham Hill hostel funded by the Mayor's Homelessness Fund, Manchester Council and the Edward Holt Trust.
Another inspiring and productive Raising Bee event for @streetsupportuk last night. Here's the next one https://t.co/m0domLWaqL

— tony foggett (@tonyfoggett) October 11, 2017
Such a great event bringing together comms and digital folk in #Manchester to support @streetsupportuk #EndHomelessnessMCR pic.twitter.com/NHpIHkwCU8

— Nicole Kenny (@Nicole_Kenny) October 10, 2017
Working with @streetsupportuk today for #WorldHomelessnessDay. If you're looking for ways to help, have a look at: https://t.co/M8vvFjgnVH https://t.co/SJFt4RJchk

— Angeliqua Dieye (@angeliquadieye) October 10, 2017
Another successful Hackathon for @streetsupportuk #WorldHomelessnessDay @computerlovers pic.twitter.com/Cx2vm6tt88

— Michael Henderson (@michaeljh89) October 10, 2017
Great night at @computerlovers writing my socks off at the @streetsupportuk raising bee #EndHomelessnessMCR #WorldHomelessnessDay pic.twitter.com/pNYU4srzs4

— Shelley (@Shelley_Oh) October 10, 2017
Final remarks
Best of all, we had two attendees who have actual lived experience of being homeless to help us oversee the activities and make sure they're as relevant as possible.
Here's even more information relating to what the Raising Bee is all about.
Don't worry if you missed out. The next Raising Bee is coming up on Tuesday 7 November and you can sign up for one of the limited places now.
If you want to become a long-term volunteer for Street Support and the homelessness partnership, join our slack channel or email admin@streestupport.net.