Food bank usage is on the rise, and Bradford based organisations are determined to fight this by reducing the unnecessary waste of food. 
The Trussell Trust – a nationwide organisation aiming to stop UK hunger – provided almost 1.2 million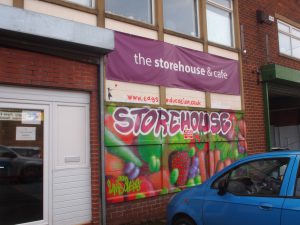 food parcels to people in crisis across the nation in the space of just 12 months; an increase of almost 100,000 on the previous year. And the actual number of people accessing food banks exceeds this value, as the statistic doesn't factor in the 651 food banks operating outside of their network.
In Bradford, various organisations have emerged in response to the swelling crisis, with Wellsprings Together Bradford producing both a print and digital resource that cites the places where those in hardship can access meals throughout the week.
The Storehouse Project is another project that aims to alleviate hunger in Bradford. The project provides is open to anyone and provides basic provisions for free. In the first year of the project, over 100 tonnes of food that would otherwise have been discarded and sent to landfill amounting to a retail value of £168,000 was intercepted and re-distributed to people who need it the most. The Storehouse's food contributed to approximately 238,000 meals in 30 different community groups, as well as through the project's own pay-as-you-feel cafe on Caledonia Street in the Wakefield Road area of Bradford. Moreover they also set up seven weekly pay-as-you-feel mini-markets in areas around the city, offering affordable fresh food to people who might not be able to afford it otherwise. The Storehouse Project also work with sixteen community organisations and food projects to distribute food from their warehouse – as well as teaching cooking skills and offering advice, support and signposting to other services.
The people who benefit from Storehouse's work include those who are homeless, those who are on a low income or are unemployed, young people, parents, asylum seekers, refugees, hard to reach families, people struggling to live independently and other vulnerable and at risk groups in the community. A diverse group are fed by the project – people from all ages and a variety of nationalities, including British, Polish, Iranian, Asian, African, Afro Caribbean, and other EU nationals.

In an effort to feed Bradford, the project continues to partner with food redistribution charity FareShare Yorkshire, Bradford Metropolitan District Council and the Feeding Bradford initiative. Storehouse also supports other organisations in Bradford who feed vulnerable people and work moving people out of crisis, using the Storehouse Café to play host to the regular Feeding Bradford meetings in which activity across Bradford is coordinated and connected.
FareShare have established the Storehouse Project's warehouse as a collection point to store and distribute surplus food alongside Storehouse's provision. In the last twelve months they too have had a monumental impact – 71 tonnes of food have been distributed across 16 charities, community groups, and schools, helping to provide over 169,000 meals. Through their FoodCloud service, they also connect charity groups with local businesses and supermarkets. 
Also supporting the mission to feed the people of Bradford is the Bradford North Foodbank,  which gave out 1300 food parcels in the 2016-17 year – a 76% increase on the previous year Over 3000 people benefitted from the parcels in the 12 month period monitored, 40% of whom were children. Yet the worrying fact remains – the increase in use means a larger portion of Bradford's population are struggling to feed themselves and their families.
It's not just the UK who are seeing a rise in food poverty, but this doesn't diminish the issue, or detract from the fact that the age of austerity is only worsening the situation. In 2015 a 19% increase in the use of food banks was a widely distributed figure; and Lord Freud's claims that this was due to increased availability were quickly refuted by many politicians and intellectuals.
Bradford based organisations are working hard to face this challenge; a new food bank was opened in Rawdon in January 2017, and Wellsprings Together are focusing on the key issues that cause a rise in food bank use. And though the rise in need for provision has slowed since 2013, the growth continues, and food banks have become an essential part of Britain's social safety net. The number of people in crisis requiring the aid of food banks and other food distribution services is higher than ever before. This is an issue that needs to be faced head on.
---
Find out more about the organisations mentioned in this article and find out ways you can help on the "Bradford Cares" tag of streetsupport.net.
A blog refuting Lord Freud's claims –
http://blogs.lse.ac.uk/politicsandpolicy/food-insecurity-in-the-uk-and-europe/
An article about the extent of food bank usage –
https://www.theguardian.com/society/2017/may/29/report-reveals-scale-of-food-bank-use-in-the-uk-ifan