What innovative ways can we help combat homelessness and create jobs?
Manchester is the home of the industrial revolution, the birth place of the first computer and where
scientists first split the atom. Yet in the last year alone Manchester has seen a 40% increase in homelessness.
As a city that prides itself on firsts and innovation, what innovative and inspirational ways can we
all help those who need it most and to reduce homelessness? We're right to be proud of the services, organisations, charities and volunteer groups who work tirelessly to help. But as a city, could we do more?
Do you have the appetite for some inspiration?
Fat Macy's based in London provides catering for events and supper clubs and their aim is to 'train and support young Londoners living in temporary accommodation and help them move into their own homes'. People volunteer their time, and in return they accumulate credit, paid into a secure deposit fund by the social enterprise, which is held until they have saved enough for a deposit.
Just recently it was announced that The Clink based at HMP Styal in Wilmslow will be opening their first offsite cafe in Manchester city centre staffed by offenders and homeless young people. It's reported that The Clink, which has been running for a number of years, has helped to cut re-offending rates by 41 percent by providing skills and helping people find work.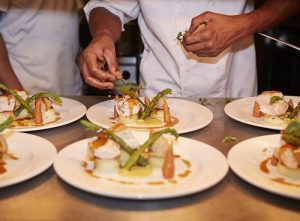 We know that homelessness is an issue in Manchester and it's an issue that everyone at Street Support and their fantastic partners are trying to support, but we need your help. We need the businesses and the enterprises and the fantastic organisations across the city to join forces and think of innovative new ideas that can help end homelessness in Manchester.
Do you own a restaurant and can start a scheme offering homeless people the chance to learn new skills and earn money? Perhaps you could start a supper club for the foodies of Manchester or link jobs with people that need it the most? It's certainly food for thought…
Help keep Manchester's legacy and rich history of firsts and innovation alive by starting your own
initiative, come up some amazing programmes and ideas and work together and collaborate and let
us know by sharing it online using #EndHomelessnessMCR.
Article written by Nicole, another of our fantastic volunteers.