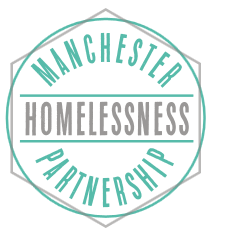 Homelessness, in all its forms, is increasing across the UK, with the situation now at crisis point. Manchester needs a unique solution from all sectors (voluntary, statutory, and business) putting the voices and knowledge of people with experience of homelessness at the forefront.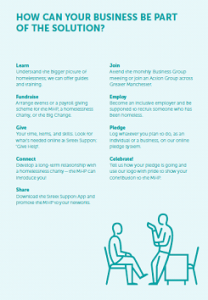 Manchester is fast becoming becoming a model for other cities around the UK, but we still have a long way to go. The Manchester Homelessness Partnership is guiding and progressing our mission to end homelessness, but we need the support of individuals and businesses to make it possible. This flyer introduces some ways in which your business can support Manchester's efforts to end homelessness. Please use it to start a conversation with your colleagues about what you'd like to do as an organisation, and then get in touch to let us know your plans so we can support you in making it happen.
Joining our Partnership could help your business too. For example; attracting and retaining top talent, strengthening trust with your customers and clients, and increasing networking opportunities with government and other businesses.
The movement is continuing to grow, and exciting things are happening – join us!
dee@streetsupport.net