By Charlotte Willis (Project Support Worker)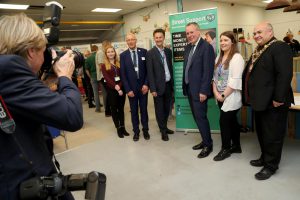 Street Support Bournemouth, Christchurch and Poole hosted an incredible launch event last week (5/10/18), to inspire a new approach to tackle homelessness in the area. The event, held at BCHA's The Factory, brought together homeless organisations, charities, local businesses, Conor Burns MP, the mayor of Poole and the mayor and mayoress of Bournemouth.
The 'VIPS' of the event took front row, as the mayors of Bournemouth and Poole sat next to each other to listen to the reasons for this collaborative approach.
We kicked off the event with our emotive mini documentary where ex homeless people explained the complex causes of homelessness and the cruciality of receiving help. (View the video here).
Conor Burns MP for Bournemouth West kicked off the talks by saying, "I have become increasingly concerned and distressed by what we see in the town centres and suburbs; of this visible problem of homelessness and rough sleeping on our streets.
"I am delighted that we are all here today and I am delighted that Street Support has come into being and I am thrilled that Bournemouth and Poole council have both endorsed it.
"I hope today marks the beginning of a new period of collaboration and that together we can make a real difference to those people who so desperately need it."
Alistair Doxat-Purser, Chief Executive of Faithworks Wessex, has been instrumental in bringing Street Support together in Bournemouth. His passion and empathy for the cause shone through in his inspiring speech as he explains how Street Support came to be and the workings of the website.
He said, "it feels like we're starting to hit the moment which brings about change."
Alistair also launched our new Just Giving page called Change for Good, where we hope to fund-raise enough money to keep us working together to end homelessness. This pot of money will be distributed to individual homeless people to help rebuild their lives off the street and to organisations to fund projects which make this happen. Running costs for a year are expected to be, but not limited to, £25, 000.
Also attending the event were many Bournemouth University students, Alistair said, "thank you university students, you were the ones who set the challenge through Ian Jones" (Head of Regional Community Partnerships).
Ian helped to bring Street Support to fruition and is appealing to the next generation for help and support, in order to change attitudes and raise awareness.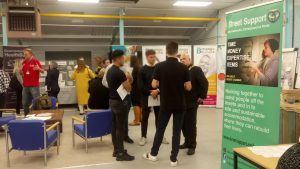 The mayor of Poole, Sean Gabriel, spoke briefly about his personal dealings with friends who had fallen into homelessness. He said, "it was such hard work to try and help them and their needs were so complex and trying to find the resources to get the help to those people was extremely difficult. I think this project is going to make a massive amount of difference to that. It will be a game-changer." Although dressed in his formal attire, his down to earth and friendly attitude was apparent.
After the talks, everyone gathered to network in the spacious location, where hands were shook, business cards exchanged, photographs taken and pledges made. We received numerous promises of help, including monetary donations, time, expertise and awareness spreading.
The main sentiment echoed by everyone at the event, was the overwhelming need for collaborative working to solve this complex social issue.
Lord John bird, founder of the Big Issue, was unable to attend the event but sent a direct message to the audience. He said frankly, "this is the most grown up thing that you could be doing in the 21st century. We really need this kind of work.
"The work of street support has to be the way in which we deal with homelessness in the future. Get on with the work it is the work that needs to be done!"
We have over 22 organisations involved which are increasing rapidly. They include: BCHA,  Boscombe Angels, Bournemouth Christians Alongside Rough Sleepers, Bournemouth Foodbank, Bournemouth and Poole Rough Sleepers Team (St. Mungo's), Christchurch Community Partnership, Citizens Advice Bournemouth and Poole,  Dorset Healthcare (NHS), Hope AOK Rucksack Appeal, Faithworks Wessex, Half Time, Hope For Food, Hope Housing, International Care Network, Michael House, Providence Surgery, Shelter, Teen Challenge Dorset, The Big Issue, The Salvation Army BH1 Project and YMCA.
We are also supported by: Bournemouth Borough Council, Poole Borough Council, Dorset Community Foundation, Bournemouth University and Dorset Police and Crime Commissioner.
Video footage of the day coming soon!
For more information please contact:
Claire: bournemouth@streetsupport.net
Charlotte: Bournemouth-charlotte@streetsupport.net