THE BISHOP OF MANCHESTER
The Rt Revd Dr David Walker
(Excerpt from a letter dated 10th Oct 2018)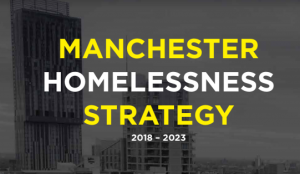 "This strategy lays out our vision for the next five years – to end homelessness in Manchester. It looks at how we are going to address the wider inequalities and barriers to accessing services that lead to homelessness in our city.

This strategy has been written and owned by all of us who have a vested interest in ending homelessness in Manchester. Unique to Manchester, we've also actively involved those with a personal insight into homelessness. It could never have been written without them. By working together and speaking with a unified voice, we can achieve much more. We plan to increase prevention and early intervention, improve temporary and supported accommodation and increase access to settled homes across the city. We want to make homelessness as rare as possible, as brief as possible, and where possible a one-off experience for anybody in Manchester.

Of course, we want to make sure that this is a strategy that gets results. That's why each of the organisations we are working with is tasked with its own action plan, with measureable activities that will really make a difference. We'll be reporting back on those plans early next year.
No single organisation can do this alone. We recognise that contributions are needed from lots of different people and organisations to make this strategy work. I am proud to be working with so many people with the passion and drive to end homelessness together".

To read the full document, please follow the link: MANCHESTER HOMELESSNESS STRATEGY 2108-2023

Thanks for your time.