On Sunday 21 October, a football match between a team of formerly homeless people and Greater Manchester Police (GMP) Tameside raised £2,018 for the Greater Manchester Mayor's Homelessness Fund. More than 500 people turned out to support the match at Seel Park in Mossley.
The Emmaus team, which included former professional footballer Andy Ritchie and staff from Oldham Athletic, mostly consisted of formerly homeless people who are now supported by the charity.
Andy said: "It was wonderful to see so many people turn out at Seel Park to support a fantastic cause and help to raise a tremendous amount that will go a long way". The game was played in good spirits with GMP Tameside taking the win with a score line of 8-2.
PC Steve Naylor from Greater Manchester Police, said: "What a fantastic day! Thanks to everyone who made it all possible, to all the generous businesses who donated raffle prizes, Mossley AFC for providing the venue, OACT for securing the services of Andy Ritchie, Andy himself and Chief Constable Ian Hopkins for presenting the awards. Most of all, thanks to everyone who took time out, on a rainy Sunday afternoon, to come down and support the event. Without you, the day wouldn't have been half as much of a success as it was."
The Emmaus team included people who live, work and are supported by Emmaus Mossley and Emmaus Leeds. Emmaus communities support formerly homeless people by providing them with a home and work in a community setting. Each Emmaus runs different social enterprises, providing work and development opportunities whilst generating income to sustain the work of the charity. Darren Bateman, companion of Emmaus Mossley and team captain of the Emmaus XI, said: "I really enjoyed the game, getting on the score sheet and playing alongside Andy Ritchie. I thought both teams did really well and I would like to congratulate the GMP Tameside team on their win".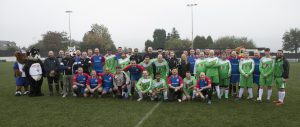 For anyone who couldn't make it on the day but would still like to support the event you can donate online at: https://www.gofundme.com/EmmausVsGMPTameside
To find out more or support Emmaus head to www.emmaus.org.uk/mossley