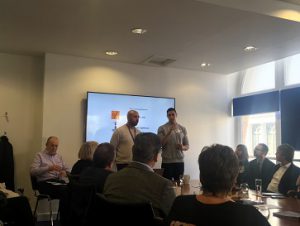 Help to make a Big Change
A new collaborative city-wide campaign has launched to help make a big change to the lives of those in need on the streets of Leeds city centre.
Big Change Leeds aims to get the city behind it to provide practical support which can make a real difference.
A new alternative-giving campaign for Leeds, Big Change, wants to raise awareness, inform, educate and engage people in ways to help those in need on the streets of Leeds city centre.
It aims to change how individuals in need are being supported by those who want to help by getting people and businesses to come together and give effectively, providing direct benefits for people on the city centre's streets by addressing individual needs.
Big Change presents the opportunity to both offer help and appeal for help by connecting charities, organisations and people with a way to make donations of money, time or items.
It channels all donations through a central online resource (Street Support Leeds) where everyone can contribute to make a lasting change to someone's life.
It brings over 45 charitable organisations from across the city together onto one public facing platform – making information accessible about existing resources in the city centre and how people can help directly. It focuses on the provision of those essential everyday items, which are often unfunded and that can make a big change such as a bus pass, deposit for a flat, clothing for an interview or the basics to furnish a flat. It also enables people to offer skills support, practical assistance or just an hour to help here or there.
Big Change aims to make a real and positive change to those who may find themselves on the street, by working with local charitable organisations and support services, which can apply for funds through the Leeds Community Foundation grants programme. All those registered on Street Support Leeds have the opportunity to access funding and donated items and resources.
It also highlights the wider support services engaged in working with those in genuine need in the streets on Leeds city centre and will illustrate how donations can help to make a real difference to individual lives.
Big Change Leeds is a major new campaign instigated by Leeds Business Improvement District (LeedsBID) and Leeds City Council, with the support of Leeds Community Foundation and in collaboration with third sector and grassroots organisations operating in the city – all working together to look at long term help and solutions for those on the city's streets.
Andrew Cooper, LeedsBID Chief Executive said: "Big Change is a significant new city-wide collaboration to bring businesses, organisations and individuals together to help make a real difference to those who are in need on the streets of Leeds city centre."
"LeedsBID is proud to be involved, investing in the infrastructure that has united those involved to make this campaign possible and it creates an opportunity for Leeds collectively to make 'a big change'."
Cllr Debra Coupar, Executive member for communities, Leeds City Council, said: "As a council we're supporting Big Change because we recognise that these are issues the council can't deal with alone. As a city we can go beyond giving someone the money to buy a hot drink or a meal and we can provide ongoing help to those that need it most to get off the streets and away from a street based lifestyle, to recover from addiction, to find work, to manage a home.
"Big Change is about the city helping people rebuild meaningful lives; it's about ensuring they get the support in Leeds that they need."
There are lots of ways to help people in need on the streets of Leeds – get involved and help to make a lasting change.
Dave Paterson, Unity in Poverty Action (UPA) and the Leeds Homeless Charter added: "The need to involve the general public and the business community in tackling street based activity in the city of Leeds is vital. The Big Change initiative is an exciting opportunity which will help connect, mobilise and engage many people that inhabit the city centre so they can support many vulnerable people."
Find out more at www.bigchangeleeds.co.uk