"By giving a just a little you could help a lot"
That's the message behind Real Change Oldham, an initiative aimed at supporting some of the most vulnerable people in Oldham who are homeless or at risk of becoming homeless. Real Change does this by combining donations from the public to buy practical items that can make a significant difference to people's lives.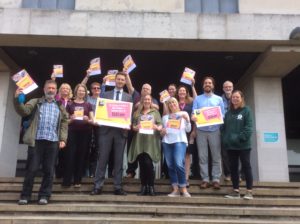 There are no overheads to the campaign, which is a partnership of local groups and people who have experienced homelessness themselves. All donations go directly towards practical items people need to build lives away from the streets: things like ID to register with a landlord, bus fares to get to key appointments or money for the electric meter to settle into their new home. 
"Working on the frontline with people who are homeless, voluntary groups see every day how hard it is to make a change when you lose your home and also lose hope. This fund is an antidote to that – ensuring the cash is there at the point people need it to cover costs which will help end their homelessness. The campaign is also about everyone in Oldham coming together to say it is not ok for someone's life to get to the point where they are homeless or beg on the streets, and this is something we can do about it."

Victoria Holden
Partnership Co-ordinator at Action Together and Chair of the Real Change Oldham
"We can all see that rough sleeping is a real issue here in Oldham – and we also know that homelessness is rising across the country. Real Change Oldham is a new partnership which will make sure your donations to help end rough sleeping go to the right place to make the most difference. People often just need a bit of help at the right time to help them get back on their feet and Real Change Oldham will be able to provide what is needed. Everyone involved has the experience needed to make Real Change work here, just as it has elsewhere in the UK" 

Councillor Hannah Roberts
Oldham Council's Cabinet Member for Housing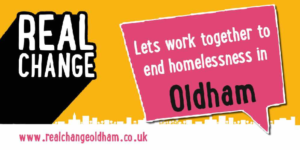 Real Change Oldham is now looking for more people, workplaces and community groups to get involved raising funds and awareness to help end homelessness in their community. For more information on how you can be part of this, visit www.realchangeoldham.co.uk.
Residents and businesses can support too: www.realchangeoldham.co.uk
Follow the campaign:
#RealChangeOldham
@OldhamReal
Thanks for your time.
The Real Change Oldham partnership is made up of a number of local organisations involved in ending homelessness, including: Action Together, KeyRing Ancora, Threshold Housing Project, Positive Steps, DePaul Nightstop, IF Oldham, Oldham Youth Council, First Choice Homes, Oldham Council and Oldham Cares.

All funds raised go into an account set up by Positive Steps Oldham on behalf of Real Change Oldham and will be distributed according to a Dispersal Policy agreed by the Action Group when the fund opens for applications later this year.
Real Change Oldham is the third Real Change campaign to launch in Greater Manchester, after it was established in Wigan and Leigh in October 2018. 

The cause is supported by the GMCA and the Riverside Housing Association and builds on the Big Change Manchester model which has now been running for over 3 years.
To find out more about the Real Change programme in Greater Manchester, please contact Robbie Cowbury, Campaigns Manager for Real Change, on 07976 924 793 or email

Robbie.cowbury@riverside.org.uk

.