What is St John's?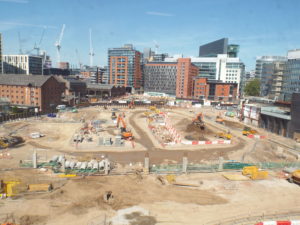 St John's' is a one billion pound new development in the centre of Manchester and is being described as Manchester's newest neighbourhood. Once constructed, the 6 acre site will be mixed-mode and plans to include 2,500 new homes, 600,000sq ft of workspace, and 400,000sq ft of leisure space. It is estimated that a workforce of 2,500 people will be required at the peak of the development.
What is St John's Homelessness Initiative (SJHI)?
SJHI is a collaboration between all the organisations involved in the St. John's scheme development. This includes Allied London, Laing O'Rourke, Lendlease and Mclaren, working alongside DWP, Manchester City Council, the Manchester Homelessness Partnership, Street Support, Big Change MCR and CityCo.
It's a first of its kind collaboration in the UK created to contribute towards ending homelessness in the city.
SJHI Objectives
Inclusive Employment
Employment creation is a key focus and will begin with the launch of an online job portal in partnership with Street Support Network and the Manchester Homelessness Partnership. Organisations can post any available vacancies on the portal, with partners hoping to recruit a number of their roles from the portal. Inclusive Jobs (created by Gareth Ford & Phil Stanley of Career Builder International) launches this month and is a unique online jobsite dedicated to bringing job offers to people facing barriers to employment.
Awareness Raising
By talking about the issues of homelessness both internally and in their supply chains, partners will be able to raise awareness of this crisis. Partners will provide opportunities for employees to attend Homelessness Ambassador Training, to increase understanding , provide further support and to share this learning with colleagues.
Financial Support
SJHI aims to raise £250,000 a year, with support coming in many forms from the initiative's partners. 50% of the proceeds will go to Big Change Manchester and 50% will go to Manchester Homelessness Partnership and Street Support Network.
"It's been fantastic to see the skills and knowledge of all the partners involved coming together for this cause. Inclusive employment is a massive need for our city and I think we'll only get there if the business and charity worlds understand each other better. This is one of the things we're trying to do through this initiative"

Dee Lowry, Business Engagement Coordinator, Manchester Homelessness Partnership

 "I signed the Manchester Homeless Charter in 2015 on behalf of Allied London. Since then my knowledge, understanding and appreciation for the challenges that face the homeless, the charities and local authorities that work tirelessly to support them has grown exponentially"

Gabriel Erinle, Operations Director, Allied London

"The Council is delighted to be part of this idea and we commend the sense of social responsibility being shown by the companies involved. This is a brilliant initiative which will help people who are homeless in Manchester both by connecting them with job opportunities and raising funds for the extensive support services available"

Councillor Sue Murphy, Deputy Leader, Manchester City Council

"The St John's Homelessness Initiative embodies everything we do as an organisation – supporting practical projects that positively impact homelessness and educating businesses around the complexity of this very important issue"

Alex King, Partnership Director, CityCo

"We look forward to working with all involved in the St. John's Homelessness Initiative and are passionate about the work we can do together to offer more support to those who are currently homeless or rough sleeping"

Simon Gorski, Executive General Manager, Lendlease Europe

"One of our key objectives for the St John's development, and our investments elsewhere in Manchester, is to create a positive legacy for the local economy and community. We are therefore extremely proud to become a partner of the St John's Homelessness Initiative, which we believe will play a vital role in addressing such a critical issue"

Melanie Collett, Head of Asset Management, Real Estate, Aviva Investors
A massive thank you to all the partners involved in the St John's Homelessness Initiative including:

Allied London,

Big Change MCR,

Career Builder – Inclusive Jobs,

CityCo.,

Department for Work and Pensions,

Forever Manchester,

Laing O'Rourke,

Lendlease,

Manchester City Council,

Manchester Homelessness Partnership,

McLaren Construction,

Street Support Network,

Supply Chain Organisations of Allied London, Laing O'Rourke, Lendlease and McLaren (which includes Aviva Investors)
ST JOHN'S HOMELESSNESS INITIATIVE FAQS
To find out more about please visit:
St John's Homelessness Inititiative
#SJHI
#Seeourskills

Thanks as ever for your continued support.