Three years ago, two officers at Cambridge City Council had an idea:
"…what if we could create an alternative to handing money directly to people living on the streets, and use the money raised to help people leave the streets behind…?"
The model is simple:
Donate to the Street Aid fund – either online or at the many contactless giving points around the city
The donation is then combined with many others – making a grant of up to £750
The grant is then given to someone who is or has been on the streets – helping them turn a corner in their lives.
This simplicity has been a key part of Street Aid's success. Donors can see where their money goes: not to an organisation, but to a real person.
The eligibility criteria is simple too.
In order to receive a grant, the person must:
Be on the streets, or have been in the past.
Be a resident of, or have links to, Cambridge City.
Use the grant for something that will help them get off, or stay off, the streets. The person themselves decides what that 'something' is, and are encouraged to be creative – what people apply for is not restricted, as long as it will practically help them leave the streets behind.
Street Aid has resonated with the people of Cambridge because in less than 3 years, more than £67,000 has been raised and more than 225 grants given out. Street Aid's success is not just measured by numbers. But by real stories of people who have used a Street Aid grant to turn their lives around.
Tom's Story
Tom* had alcohol dependency issues that led to him losing his job and becoming homeless. Tom worked hard to detox, and then his support worker suggested he apply for a Street Aid grant to pay for a security course. He did, then attended the week-long course, passed all three exams with flying colours and started security work straight away.
Tom says "Not being employed for a year, you lose confidence. Security work was perfect to build my confidence because I could pick and choose the shifts and I was in control…..For me, doing the course was a massive part of the puzzle. I'm just so thankful for Street Aid being able to fund my course for me, it really got me set back up for life."
*Name changed for reasons of anonymity.

Cambridge Street Aid continue to strive to find new ways to grow the fund, so more people like Tom are able to get off, and stay off the streets. 
In April 2019 Street Aid started recruiting Volunteer Champions to hold events in their workplace, university or local community to raise money and awareness for Street Aid. In just a few months, six events had been organised by volunteers, raising £100s for Street Aid and spreading the word to hundreds of new people.
Innovative use of technology means that contactless giving points allow people to donate £3 using their credit or debit card in just a few seconds. There are currently six giving points in the city at the moment and hope to grow this to 15 in the next three years.
Street Aid Week, from 14-18 October is a chance to shine a spotlight on public events and activity online, spreading the word to more people who live in, work in and visit Cambridge.
Cambridge Street Aid are now looking to spread this model to other cities. Soon Street Aid Harrogate will be launching, and they are working with the team in Harrogate to ensure their campaign is equally as successful.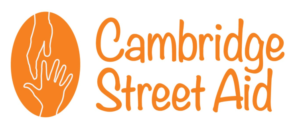 For more information, please visit Cambridge Street Aid
Or you can email streetaid@cambridge.gov.uk.