Reading YMCA provides 40 units of supported housing for 16 to 24 year olds referred by Reading Borough Council. The bedsits are modern and all are ensuite, 28 with kitchenettes and 12 with shared kitchens. Four of the units are reserved for young mother's with babies.
Guest blog by Arlene Kersley, YMCA Reading Chief Executive Office.
In addition to YMCA Reading's regular programme of supported activities, training and counselling services, summer-time offers the opportunity for our residents to get involved in a range of extra activities. This summer there was a lot going on here Including:
1 – Quiz Events are run by James Holland of LifeSprings Church for teams of Residents and Staff every Wednesday afternoon during term-time. These take place in the YMCA IT Training Room. The quizzes are very well attended and great fun. The teams get very competitive, particularly those with certain staff members (Harun and Kush particularly). The events are followed by motivational speakers who talk to our young people about their life experiences and how it is possible to turn your life around. Many is the sunny Wednesday afternoon that I have been working in my office the sounds of raucous laughter coming from the Quiz.
2 – Afro-Caribbean Cultural Evening took place on the 10th of July. Housing Officer, Tony Hall and Case Practitioner, Lilian Mshila took the lead to give YMCA residents the opportunity to cook Afro-Caribbean themed food in our Café kitchen. The food was then shared with residents for this festive event. Tony can always be counted on to deliver tasty Caribbean treats and is famous for his Jamaican goat curry.
3 – Tuesday Chicken Dinners – Every Tuesday during the summer, residents were treated to activities in the Sports Centre followed by in-house cooked chicken dinner, thanks to donations made by KFC. This made up for the dubious weather early in the summer when we normally run regular BBQs in our courtyard.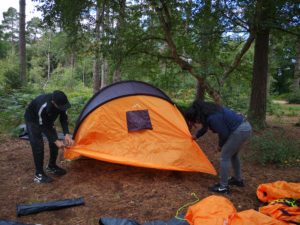 4- Padworth Resident Camp-out – Case Practitioners, Kirstie and Harun decided it was the time that residents had the opportunity to make use of the YMCA Outdoor Activity Centre at Padworth. They set aside two nights 14th & 15th of August, however the weather forecast for the 14th was looking particularly grim, and that turned out to be the case. It was decided that just 1 night for a trial would be better as the rain would put them off. Residents who took part had a day and night of setting up tents, lighting the campfire and taking part in a variety of outdoor activities set in the middle of the woods. There were hikes and circus tricks, and YMCA's Jack May, a trained Archery Instructor, gave the residents the chance to try out their skills with a bow and arrow. Apparently it got a bit competitive, (that would be Harun again). This will be a repeat activity next Summer. A very special mention for Kirstie and Harun who did such an excellent job.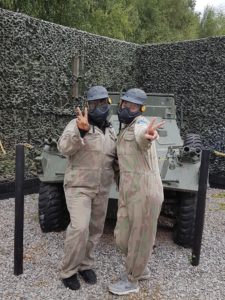 5 – Paintballing – Laura organised a group Paintballing session in Mapledurham in early September as an end of summer treat.Hot spells over the summer were managed with ice cream, lots of water and fans to try to keep everyone cool and tempers down.
Coming-up residents can look forward the restart of the weekly quizzes, more opportunities to access training in our Workshop and in the IT Training room and a variety of Christmas activities that will take place later in the year. Keep an eye out for the YMCA Bake-off competition at our Christmas Bazaar on the 7th December! We are getting really excited about the upcoming refurbishment of our Sports Centre.
We have raised over £200,000 and hope to start the project early in 2020. The modernised facilities will offer much more opportunity for our young people to get active in regular health and well-being programmes and also to take part in integrated activities with the general public.