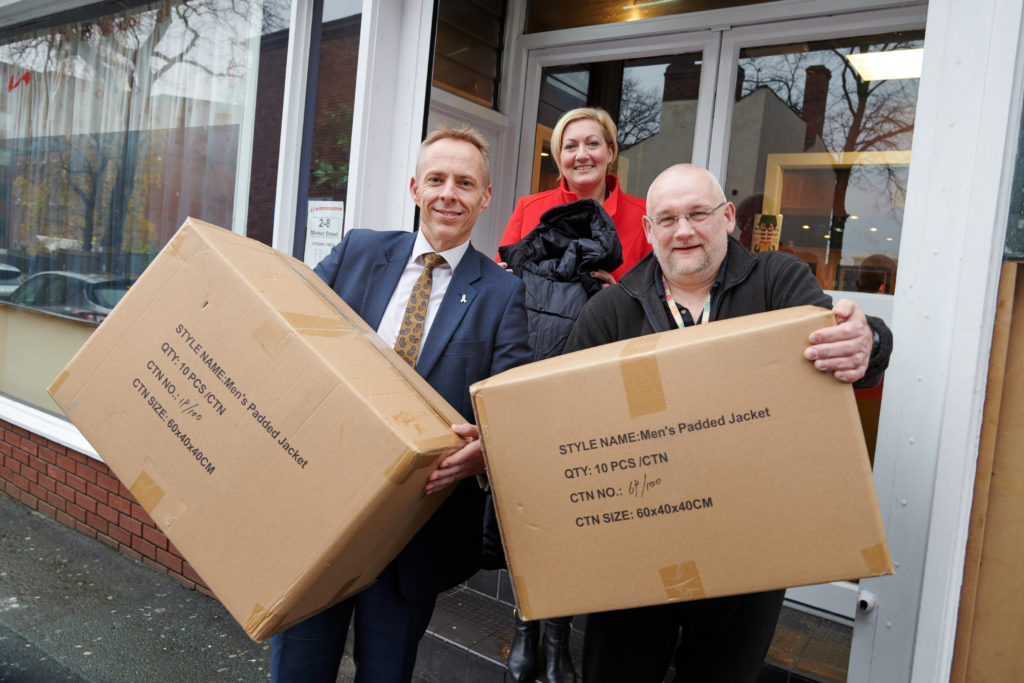 In December 2018, Sheffield based clothing brand Dark Peak launched their new outerwear brand and first product – the NESSH Jacket – on Kickstarter, with the promise for every jacket sold Dark Peak would donate another jacket to a homeless person under their 'One Sold, One Given' pledge. Through that campaign and their website, over the past year, Dark Peak Jackets has sold over 1,000 jackets to customers in the UK, USA, Europe and beyond. In line with their giving pledge, this winter Dark Peak distributed 1,000 jackets to shelters and homelessness support organisations in the UK and around the world.
Last month, Dark Peak Gear contacted us to inform us that 390 jackets had been set aside for the Street Support Network. This meant that charities in Blackpool, Bournemouth Christchurch and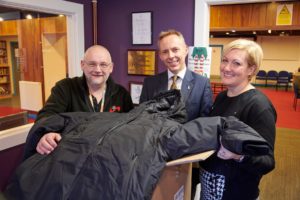 Poole, Bradford, Cambridge, Exeter, Greater Manchester, Leeds, Luton, Portsmouth, Reading, Southampton and Wakefield District received jackets to handout to people who are experiencing homelessness.
As winter draws closer and temperatures begin to drop across the UK, this donation came at a crucial time as it means that those living on the streets can remain warm during these colder months whilst they receive the help they need to come off the streets for good.
Allen Holland – Co-Founder Of Dark Peak said:
"When you buy a high-performance jacket from a well-known brand, you often pay 6-8 times what it actually costs to manufacture. By cutting out the high retailer mark-ups and 'middle-people' in the distribution chain, and only selling direct online we are able to offer people a world-class jacket at a reasonable price, and do what we're passionate about: giving another jacket to a vulnerable person who needs help the most. We are extremely happy to be able to give 390 of these jackets to distribute throughout The Street Support Network."
Antony Sadler, Service Director for Communities at Wakefield Council, said:
"We are proud to be part of the Street Support Network, which is committed to helping people in need in our city and towns, to get access to support services they require. This generous donation of jackets from Dark Peak Jackets will help people to stay warm and dry during cold, winter weather, and complements the services we offer to help rough sleepers to access shelter during severe weather and support in the longer term, to permanently come off the streets."
Kevin Dobson, Project Manager at Communities Awareness Programme, a charity that supports people in need said:
"We welcome this donation as we know it will make a difference to rough sleepers, who are very vulnerable during cold weather. All of our supporters are incredibly generous and there's never a day that goes by when we don't receive a donation, such as food, clothing, and volunteers' time. Having this level of support means we can provide hot meals, clothing and furniture as well as friendship, care and advice. We can also help people to access employment and support services so that vulnerable people can move forward in their lives."
On behalf of all locations featured in the Network, we want to extend our gratitude for this generous donation!
Kevin Dobson, Project Manager at Communities Awareness Programme.
Antony Sadler, Service Director at Communities Adults, Health & Communities Wakefield Council.
Sarah Howsen, City Centre Officer at Wakefield Council.
You can find out more about Dark Peak or buy a NESSH jacket for yourself at: