Peter, resident of Michael House, has transformed his life through gardening.
Michael House, a 25-bed hostel for homeless people in Bournemouth, started their in-house Garden Project in 2014. CEO, Mark Horsford has said that since it began the 'project has been grown from nothing, with little to no budget' due to the hard work and dedication of residents like Peter.
Peter, whose surname remains anonymous, said the garden 'is a reflection of my own process,' as he makes the 'on-going' journey out of homelessness.
Peter reflected that the garden had not solely helped him but had been 'beneficial to the residents at Michael House… and is a haven to all those who use it.'
Another resident of Michael House previously expressed that, 'seeing the garden change has made me believe that my life can change. Things can only get better if you put the hard work in first.'
The charity Mind claim that 'spending time in nature has been found to help with mental health problems including anxiety and depression.'
Mark Horsford witnessed this to be true, as he said, 'it is wonderful to see the therapeutic benefits that spending time with nature can have on all of us.' He also informed that the wildlife garden includes 'carefully selected plants known to be natural antidepressants.'
Cllr Jane Kelly, both a trustee of Michael House and Vice Chair of Bournemouth in Bloom, also advocated that, 'this project has had huge mental and physical wellbeing effects for all involved.'​
The Garden Project recently won the Bournemouth in Bloom 2019 award for best 'Environmentally Friendly Space'. This is now the fourth award received for the garden.
Peter was there to accept the award at the prize-giving ceremony on the 16th October 2019. Mark Horsford said, 'it has been so inspiring to see the level of pride from our residents when collecting their awards'.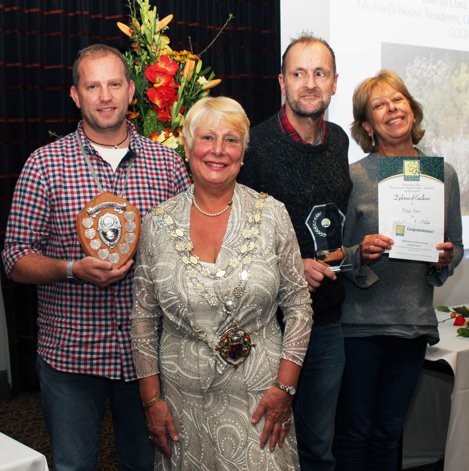 Hostels like Michael House play a vital role within the Bournemouth community, as homelessness becomes an increasingly large issue in the town.
Statistics taken from the Bournemouth Homeless Strategy 2016-2021 show that the number of rough sleepers in the town increased by 327% between the years of 2010 and 2015. However, organisations like Michael House work hard to change that.
Cllr Kelly said that 'homelessness in Bournemouth is a massive problem' which extends 'nationally'. She continued by saying that, even though Michael House are 'helping just relatively few people,' the help they are given is 'sustainable', allowing them to 'overcome their personal challenges' and move on to independent accommodation, with a lot more stability in their lives. When residents leave, 'no-one is abandoned… Michael House staff are there if needed to give ongoing support.'
Michael House works alongside other organisations in Bournemouth to help solve the homelessness crisis. SleepSafe is another scheme within the town, which provides 12 beds a night throughout the winter months, as well as somewhere to eat and wash safely.
Alistair Doxat-Purser, CEO of Faithworks Wessex and SleepSafe, explained that each guest of theirs 'receives encouragement and support to make the next step into more secure accommodation.'
Speaking about Michael House, he praised the 'wonderful team' who only want the 'best for each individual,' which has succeeded in moving previous 'sleepsafers' like Peter, onto much better things. ​Peter said that, 'SleepSafe has helped me come off the street and looked after me in the depths of winter.'
Thinking long-term about the Garden Project, Mark Horsford said, 'our aspirations would be to become a charity partner with a local garden centre, so that we can continue to improve the space.'
To support the life-changing work of Michael House, through a one-off or regular donation, email directly at info@michaelhouse.co.uk or visit their Golden Giving page: goldengiving.com/wall/michael-house.​
To find out more about the work being done to support homeless people in the conurbation, visit: streetsupport.net/bournemouth
Reported by, Charlotte Willis, Claire Boad and Shannon Durston