The Immanuel Project provides breakfast, lunch and a variety of services on Mondays and Wednesdays from 9.30am. The charity was set up in the winter of 2010 and was initially only going to run for a few weeks, but their amazing work continues now.
What do volunteers do to help?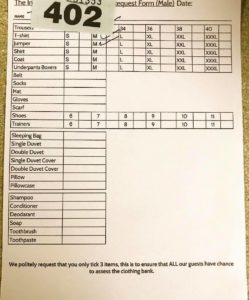 We do all sorts! Volunteers can prepare the food, hand out hot drinks and just have a chat with the guests. There is a form that our guests can fill out where they can request items including jumpers, pillows, duvets and soap. Volunteers then sort through the stock and bag them up. There are also some volunteers that provide services, such as hairdressers and beauticians.
What are the aims and goals of The Immanuel Project?
The goal is to help those experiencing homelessness and to provide them with a drink and something warm to eat. The services on offer are useful for people who might not have access to them otherwise. The Immanuel Project gives individuals a place to go and talk to people.
How can the public get involved?
There's lots that you can do! We welcome individuals coming here to help out and talk to our guests. We need items for our clothing bank and are currently in short supply of shoes, boots and men's trousers size 30-34 waist. We are always after sugar and coffee. You can drop the donations off during our opening hours. It is also useful to have people who can offer a specialist service such as dentists and teachers. It's important to just generally show kindness and be warm towards individuals that you see sleeping rough.
How can people get in contact with The Immanuel Project?
Check out our website http://theimmanuelproject.org.uk/get-involved/ and email us on info@theimmanuelproject.org.uk