From Sunday 12th January 2020 to Sunday 9th February 2020, seven churches across Southampton opened up their doors to rough sleepers for a pilot project of the Churches Winter Night Shelter. The churches included City Life Church, Victory Gospel Church, Saint Mary's Church, St Deny's Church, St Mark's Church, Above Bar Church and Central Baptist Church, which was supported by a team from Life Church. The project recruited and trained over 150 volunteers from across Southampton to serve in three teams: an arrivals team serving a hot meal and providing a warm welcome and hospitality to all the guests, an overnight team who stayed through the night with the guests and a breakfast team serving a simple breakfast before guests headed on for the day.
A lot of hard work and organisation went into pulling this scheme together, during the first week of the winter project, there was some downhearted moments when no guests arrived on a few nights. But with word spreading around about how nice the venues were and how welcoming the volunteer teams were, numbers soon picked up. Overall, the churches were 39% full, increasing from 13% in week one to 65% in the final week. Further statistics showing the beds per church and beds in use can be seen in the graphs below which also evidences the increase in numbers.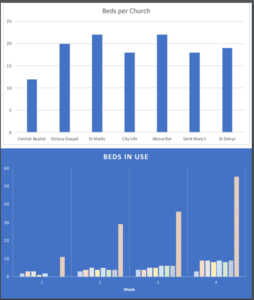 This pilot project of the night shelter went better than anyone could have hoped for, especially as the majority of guests who attended the shelter have now been given alternative accommodation. We hope to see the winter shelter up and running again in 2021.
Olivia Page, Venue Coordinator for Victory Gospel Church says:
'' the winter shelter was so rewarding to have been a part of, knowing you were helping to bring people off of the streets and into the warmth. I am so pleased the numbers increased towards the end as it made the project a real success. This shows how successful partnership can be and the impact that faith groups can have''