An inspirational service to celebrate International Women's Day and 10 years of Alana House women's community project was held in Reading on Sunday 8th March.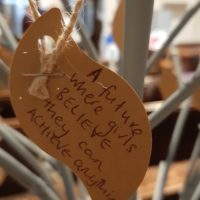 The unique service at Reading Minster saw performances by Reading Community Gospel Choir and soloist Nichole Grace and readings and prayers from some of the charity's supporters and women supported by the project .
Alana House is run by charity Parents And Children Together (PACT) and supports vulnerable women and empowers them to make positive life choices by developing new skills and boosting their self-esteem.
In the last decade more than a thousand women have been supported at Alana House. As part of the service, some of the women read out their stories and released a balloon to symbolise their dreams. Supporters wrote messages and hung them on a tree of hope.
PACT Chief Executive Jan Fishwick OBE said:
"It was a truly inspirational experience. The performances were absolutely wonderful and the courage shown by the women to share their readings with us all was incredibly moving."
To find out more about Alana House please visit www.alanahouse.org