Since Street Support's inception in 2016, the majority of our time was spent doing what needed to be done to support people who are homeless or at risk of homelessness. Our mission – tackling homelessness – is a big one and is in the hearts of all of our staff members. We knew that measuring impact was an important part of this but up until last year, we had a very small team with limited resource and time to focus on this.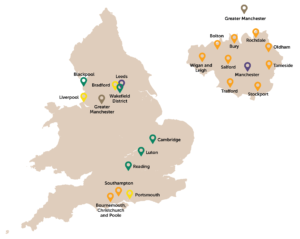 That is until our Soraya came along! Understanding the importance of being able to show impact from her time as a corporate partnerships manager, she donned her investigative and researcher hat and went to work. She spent four months reading through countless documents and emails, she had many conversations within the team and interviewed 10 of our partners to find out as much information as she could. Once she had collected all the data needed, she created a comprehensive and detailed report showing the impact Street Support Network and those whom we work in collaboration with have had on tackling homelessness across the UK. Our graphic designer Paula Susarte Dealbert has created a visually eye-catching report with some key highlights.
The impact report has been designed for all existing and possible future locations within the Network, government and commissioned services, donors and members of the public who have an interest in helping those in need. We encourage you to look through the full report so you can understand the full scope of how we have had an impact on tackling homelessness since 2016. There may be something that you didn't know and could take away to implement in your location or that may inspire you to support us by way of sponsorship in helping us achieve our mission.
Taking into consideration the effect COVID-19 has had on the global population in such a short time, it may never have been more important for us to be able to show our work, why we play an important role within this sector and how partnership and collaborative working can make a positive and long-lasting difference in people's lives.
A big thank you to the following people for their valuable and insightful input along the way:
Here is the full 13-page impact report. It may be worth making a cup of tea and getting comfortable before you start reading!
If there's anything you would like to discuss or find out more, do drop Soraya an email who will be happy to help.