There has been good progress on trying to meet immediate needs around accommodation, communication, food and volunteering in Leeds. Below is a roundup of key updates and information within the last four weeks.
Accommodation
St George's Crypt has done a great job of looking after people who are homeless during this crisis. There has been no major outbreak of COVID-19 at the Crypt so far. Due to safety reasons, the Hub, which provides Camp beds for people who would otherwise be sleeping rough, has been disbanded. Like in other big cities, Leeds City Council has been able to source a number of hotels and private landlords to help house people who are homeless. In the first week of operations, 116 people were moved into accommodation and more have followed since. We have had one Zoom conference which brought together key commissioned services, charities and grassroots organisations to share updates and learnings with each other.
Many Street Groups have stopped coordinating activities on the street and those that are continuing have been strongly encouraged to provide outreach in pairs, keeping a two-metre distance apart at all times. To prevent remaining groups from going out into the city centre, we have provided snack bags to the hotels where people are staying. We have organised for either the Leeds Rhino's Foundation Drivers or Church members to collect the snack bags from peoples houses and take them to the hotels. It's our intention that if we can show care and compassion to those in the hotels, this will encourage them to stay inside until it is safer to leave. In addition to this, the WYDAN West Yorkshire Destitute Asylum Network coordinates a night shelter for asylum seekers has been taken on by Leeds City Council in order to provide alternative accommodation.
Communication 
Leeds City Council has set up a COVID-19 information page and helpline for people seeking help.
Food
Leeds has had a positive response to tackling food insecurity. On March 16, within three days of the initial request for people to isolate, we had set up a city-wide delivery system. This involved Leeds Food Aid Network (FAN) mailing out that a delivery system was open and then taking substantial referrals which we would collate into a spreadsheet and hand over to We Care Leeds, who would deliver Food Box to peoples houses. A weekly conference call was established straight away in which Leeds City Council could interact with key partners such as FareShare Yorkshire, Leeds FAN and Trussell Trust Foodbanks, which still have 15 foodbank outlets open. We are currently discussing more foodbanks offering deliveries and the list of provision can be found here.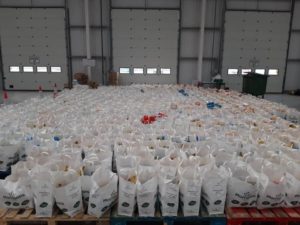 By 30 March, the newly revamped Welfare Support Scheme was fully set up – A partnership between Leeds City Council, FareShare Yorkshire, the two large Trussell Trust Foodbanks, a small number of independent food banks and Voluntary Action Leeds (FAN). Vulnerable people or their key workers are able to call or email the Councils Welfare Advisers in which their referral (of which there are around 250 a day) is put into a category of Red, Amber or Green.
Red means the person needs urgent support and details are sent to the warehouse for A food delivery. Amber or Green means the person is in need but it's less immediate and their details are passed to one of the 33 COVID-19 local Hubs which help connect registered volunteers to people in need. The aim is to make sure that the COVID-19 Hub nearest to the person in need is alerted. The Hub contacts the volunteer who will pick up the food parcel and deliver it to the person in need. If a person registers as green, a new system is being set up in which an online food voucher will be issued to the person in need and can be used to buy goods from a supermarket.
This is a major attempt to coordinate foodbanks online but inbed it in a citywide strategy. Please note foodbanks are receiving referrals online from other agencies in addition to this scheme.
Volunteering 
Voluntary Action Leeds in partnership with Leeds City Council has split the city up into 33 COVID-19 volunteer hubs. A total of 7,500 volunteers have registered through VAL and the local hubs exist to connect checked volunteers with vulnerable people who are in need. We would normally advertise voluntary roles on the Leeds Street Support but the demand to volunteer is outstripping the number of voluntary placements. This just goes to show that the community of Leeds really pulls together in times of crisis.