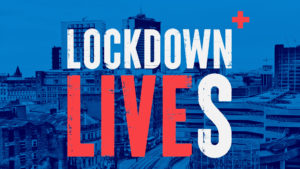 LockdownLIVEs is a new documentary project created by and for Greater Manchester residents who are currently homeless during this pandemic.
People who are self-isolating in emergency accommodation or living in any kind of temporary accommodation have been invited to submit short videos, poems, drawings, and photos about what life is like for them right now.
How does LockdownLIVEs work?
People who are in emergency accommodation or any other kind of temporary accommodation will be sent a theme twice a week:
This first theme is:

What's the first thing you noticed about the place you're staying?


Submissions will then be edited and released twice weekly and links to the broadcast will be shared on Street Support social media every Tuesday and Friday at 15:00.
What is LockdownLIVEs for?
LockdownLIVEs has three main goals:
To creatively connect Greater Manchester residents who are living through this pandemic in emergency accommodation

To help the broader public understand how this crisis affects those who don't have their own homes through creative expression, conversation, and advocacy.

To broadcast people's views concerning their current situation on public channels, with the hope that they are genuinely considered and people's voices are listened to (not simply heard) when decisions are being made about their lives.
Where and when can you see LockdownLIVEs
LockdownLIVEs will be broadcast on Tuesdays and Fridays at 15:00. Links to the Vimeo broadcast will be promoted here:
Twitter:
Facebook:
Instagram:
To see all future LockdownLIVEs broadcasts please favourite the VIMEO link here:
Comments and shares welcome
More about Lockdown LIVEs
LockdownLIVEs was conceived by Jez Green (Partnerships Coordinator at Mustard Tree) and Katy Rubin (founder of Theatre of the Oppressed NYC). This project is coordinated by Street Support Network and the Greater Manchester Homelessness Action Network (GMHAN).

All contributors have given their consent for their contributions to be shown publicly.
Do you know someone who might like to share their creativity with LockdownLIVEs?
If you, or someone you know is currently in emergency accommodation and would like to contribute to this project please contact Katy via WhatsApp or text to 07926 358983. See below for details of how people can submit their creative content to LockdownLIVEs

Fresh submissions will be edited into a new release twice a week and be broadcast (links through Street Support social media – see above) on Vimeo (link to follow) every Tuesday and Friday at 15:00
Thanks as ever for your continued support.