This winter, Emmanuel House Support Centre released Lone, a short film based on the lived experiences of homeless people in Nottingham. From the directors of BBC One's Soul Boy, Luke Radford and Toby Curson, Lone stars award-winning Television Workshop actor Justine Emma Moore, as well as Emmanuel House staff and beneficiaries.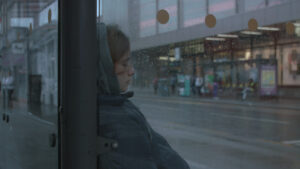 The film was commissioned to launch Emmanuel House's winter appeal and to raise awareness of the work they do to help those who are homeless, rough sleeping, in crisis or at risk of homelessness in Nottingham. It tells the story of Gemma, a young woman who becomes homeless when the relationships with the people closest to her break down. Whilst living on the streets Gemma is told about Emmanuel House from where she is able to take her first steps out of homelessness.
To write the story, the filmmakers interviewed Emmanuel House's rough sleeping navigator Hannah Byrne, who has worked with over 40 female rough sleepers across the city. Gemma's story is based on several of Hannah's clients and it is one story out of many.
Lone aims to break down stereotypes of rough sleeping and how people think homeless people look and act.
"We're trying to help people to understand the subtleties that can be involved in someone becoming homelessness. It isn't simply about making poor decisions or being lazy or about about drugs and alcohol – it is often a result of a collection of different circumstances that may be complex." – Denis Tully, CEO
Emmanuel House beneficiary Lisa Terry stars as Stacey, who tells Gemma about Emmanuel House when she first becomes homeless.
Denis added: "It was really important for the film's authenticity that our beneficiaries were involved in the project. It's important that our beneficiaries are seen and heard and that their story is told. What they have to say is always more powerful than what we could say on their behalf. Too often they are not listened to, despite wanting to be heard."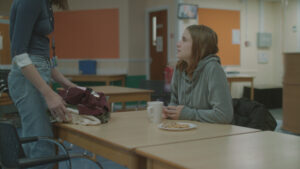 In order to maintain an authentic voice, the filmmakers encouraged improvisation and many of the actors were comfortable with improvisation due to their training.
"The majority of the cast were TV Workshop alumni. We wanted to have an idea of what the story was, what the narrative was… but in terms of what happened in each scene we wanted the actors to be able to play with it a little bit, and one amazing strength of TV Workshop is their ability to improv." – Luke Radford, film maker.
Renowned Nottingham actor Vicky McClure said of the film: "Thank you for all you do Emmanuel House and a huge well done to all involved in this film, incredibly powerful. It's an incredible film, so subtle and effective. I hope it makes a huge difference."
To donate to Emmanuel House's winter appeal, you can:
Donate online via the VirginMoney page:
Make a bank transfer by downloading the form on this page: https://www.emmanuelhouse.org.uk/winter-appeal-2020/
Text 70450 to donate £5 (texts cost £5 plus one standard rate message), or text WINTER10 to donate £10, WINTER15 to donate £15 and so on.
To get in touch with Emmanuel House about the film or the winter appeal, please get in touch with Rosie at rosie.needhamsmith@emmanuelhouse.org.uk
Follow them on social media: Facebook, Instagram and Twitter.