Those supporting and working with people who are rough sleeping are well aware that their life expectancy is dramatically reduced by their experience and the issues that they face (for figures see footnote). Consequently this brings the subject of death more to the fore and highlights the lack of openness to talk about death in wider society.
Outside The Box: Everyday Stories Of Death, Bereavement And Life is a new book dealing with the subject of death:
"We live in a society where people struggle to look death in the eye. Death has become the territory of professionals and we rarely see a dead body, unless it is someone very close to us. Death has become hidden, and so more traumatic. This book shows that, if we start talking openly about death, it can change the way we live. In it, people from all walks of life share their experiences and what they have learned from accompanying others. Heartbreaking, angry, questioning and contradictory – even laugh-aloud funny – the stories illuminate, inspire, reassure and inform. They are accompanied by advice and comment from professionals working in end-of-life planning, health, bereavement and funeral care."
In Southampton, Claire Stagg, Service Manager of Two Saints has contributed to the writing by sharing stories from her experience and says
"In Southampton there is an End of life forum for homelessness and substance misuse. The forum is committed to improving end of life experiences for  our clients. We also identify potential gaps in services to inform future commissioning. Through this forum I was introduced to Liz Rothschild who is passionate to educate on end of life and the individual journeys it can bring as well as the alternative options there can be. She was writing a book to bring together  thoughts and experiences of people from all walks of life to share.
6 years ago I managed a homeless discharge service where we supported a Romanian man who had terminal cancer. I have shared this story in the book. I also shared a story of a young homeless man and his girlfriend who attended the day centre and well known to us. To see these stories in the book provides a legacy to these precious lives and shares the experiences for others to learn from."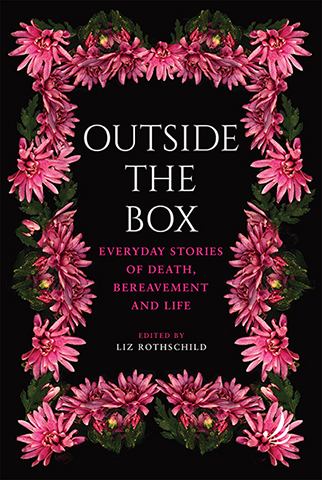 If you wish to read the stories and find out more and the book is available here https://www.pccs-books.co.uk/products/outside-the-box-everyday-stories-of-death-bereavement-and-life
Footnote
The homeless death figures from 2018 show the mean age at death was 45 years for males and 43 years for females in 2018; in the general population of England and Wales, the mean age at death was 76 years for men and 81 years for women. ( Source ONS)