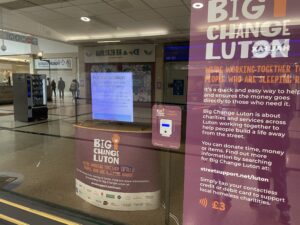 With the support of the National Lottery Community Fund, the Luton Homeless Partnership will be attempting to raise further awareness of the Street Support Luton Network.
One of the ways we intend to achieve this is through pop up digital installations located throughout the borough. The installations contain engaging information designed to further disseminate the Street Support Luton website and the wider Network based around England and Scotland.
The installations contain a media display which shows the viewer how they can Find Help or Give Help. It sets the context of how to use the website and highlights our alternative giving scheme – Big Change Luton.
As the lack of stable accommodation can significantly increase the impact of the current virus, raising the profile of Street Support Luton is a priority for us. Therefore making it even more important that we connect people experiencing or at risk of homelessness with local services so they can start to rebuild their lives.