Hope into Action: Southampton helps churches respond to homelessness and make a lasting difference to lives.  We are a local franchise of a national project operating for more than 10 years and and in over 20 cities.  City Life Church took on the franchise in 2019 in response to locally identified need for additional move on housing.
The model involves churches partnering to open homes to provide temporary supported accommodation for those moving on from being homeless.  The project builds genuine loving, supportive community around people – something that churches are well equipped to do.  Often, community and positive relationships, with the kind of practical support that friendships give, is key to empowering individuals to make a lasting change.
This kind of support isn't specialist but involves people who are committed to developing a friendship and journeying with people towards independent living.  As churches, faith is key to what we offer and putting faith into action is the motivation for most of our volunteers.  While spiritual support and prayer are part of the holistic offer of support our homes are open to anyone regardless of their background, beliefs or anything else.
The team consists of safely recruited volunteers and an employed Empowerment Worker, who has professional experience and expertise to help support tenants and ensure they have professional support and signposting.
Our first house opened in September 2020 for two single men moving on from homelessness, one of whom had previously been supported in the Southampton Churches Winter Shelter.  The tenants have settled in well and become part of the local community, developing good relationships with the neighbours and volunteers.  One of the men has reconnected with family for the first time in many years.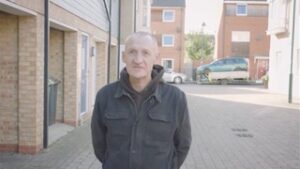 A second home opened in January 2021 for those who had made a successful asylum claim and found themselves homeless or about to become homeless.  We are working with the tenants to help them fully integrate into society and find work.
A third house has been purchased by investors and is currently being furnished and equipped with everything needed to create a welcoming home.  We will open this house in the next few months.  We have a new partnership with New Community Church and have found new investors to help us  in actively seeking a fourth suitable property, which is likely to be for single homeless men who are recovering from addiction.
We have plans for future houses too and are working towards agreeing partnerships with other local churches.  Our fifth house will be for women leaving the sex industry or fleeing domestic violence.
We'd love you to support us as we help people leave homelessness behind for good.  Please get in touch if you would like to invest in a property, give regularly as one of our Hope Givers, are part of a church that may want to partner with us, or just want to know more.
You can connect with us through our website: Southampton.hopeintoaction.org.uk