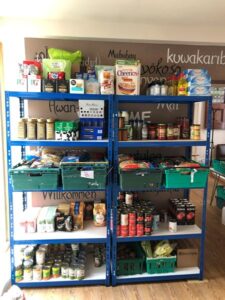 The food hub at Holland Road Baptist Church is here to stay!  Operations Manager at the church, Steve Walker, who is also on the steering group of Street Support – Brighton & Hove is pictured here putting some more organisation into place, turning his hand to putting up shelves to house food and other supplies.
Requests are:
• Would you like to batch cook for us? Contact stevew@hrbc.org.uk
• Could you have a go at making cheese scones, sausage rolls, mini quiches for us? Our Higgidy Pies have run out and we don't have any savoury snacks to give to our Monday lunch guests currently. (Remember to add allergen info to your labels)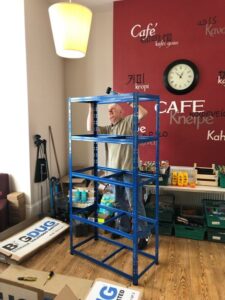 • Are you female?! Would you like to come along on a Monday lunchtime to chat to our guests? Many of them are women and we seem to have a mostly male team of 'chatters' or engagers. Contact sheridanlynch@btinternet.com if you'd like to help.