Street Support Glasgow launched on January 21st! 
Simon Community Scotland have loved working alongside Street Support Network to coordinate the rollout of Street Support Glasgow, which is such a simple yet vital tool for the city of Glasgow. There has been a real excitement about launching Street Support in Glasgow when introducing it to partner organisations working to end homelessness.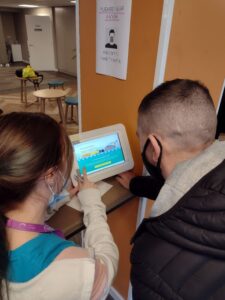 It has been so inspiring to hear about the wonderful work going on in Glasgow to prevent and tackle homelessness, and Street Support Glasgow now brings all of this service information together with a digital one-stop-shop, to be used by support workers, healthcare services, and more!  
Our launch in January had STV attend Simon Community's Access Hub to record a feature on Street Support Glasgow! Please do watch their coverage via the link below to hear how Victor, one of Simon Community's service users, and Jenna, one of Simon Community's support workers, believe it will help in accessing homelessness support services in Glasgow:  
STV Street Support Glasgow feature
Simon Community's and Street Support Network's tweets about the launch have made 50,000 impressions so far! The 21st January was also Street Support Network's website's most visited day since December 2019 with 2763 total page views. Amazing! Please do continue to support our posts on social media using the hashtag #StreetSupportGlasgow
We have over 250 services listed by over 80 organisations, but we want Street Support Glasgow to grow even more! If you would like to be listed on Street Support Glasgow – please get in touch with us at glasgow@streetsupport.net.   
Kieran Turner, Street Support Glasgow lead – Simon Community Scotland