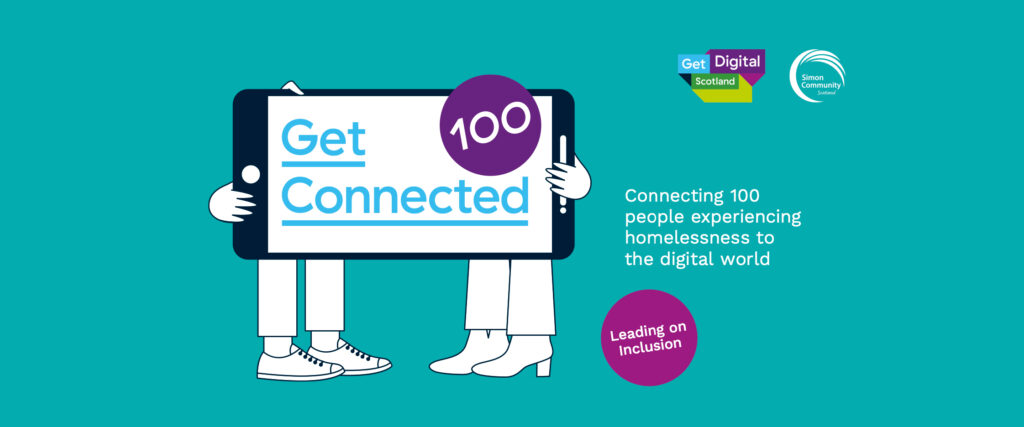 Have we been going on about Digital Inclusion loads recently? Yes.
Do we sound like a broken record? We hope not.
Is it because the more people we talk to and the more initiatives we hear about, the more we realise how absolutely crucial it is to those experiencing homelessness in a million different ways? Kind of, yeah. 
The topic of Digital Inclusion in the homelessness sector is something we're super interested in exploring, and we recently held a virtual network event to find out more about how organisations in our sector have been working to make it happen. We all leaned into our screens when Jamie Trout from Simon Community Scotland started talking about a scheme that connected 100 people experiencing homelessness with the digital world, and none of us have stopped thinking about it since.
Starting in April 2021, with funding from the Scottish Government and their Get Digital partners, Simon Community Scotland provided 100 people experiencing homelessness with:
A digital device

Unlimited connectivity

Support from a trained Digital Champion 

A learning framework of digital skills
Because here's the thing – in today's society, being excluded digitally isn't just being excluded digitally – it's being excluded totally. Think about how you socialise, how you access your money, your doctor, your public services, your news, even your entertainment.
Your digital devices right?
The results from the participants of Get Connected 100 speak for themselves:
96% improved quality of life

91% increased their use of digital tools

92% place more value on connecting to the internet

94% will continue to use digital

99% found Digital Champion support helpful
And off the back of the scheme, extensive interviews with people involved in the project were conducted where 10 life changing impacts that came up over and over again:
Increasing life opportunities 

Strengthening dignity and respect

Enabling connection with friends and family and other support networks

Accessing services and support

Promoting mental health and wellbeing

Enabling autonomy and independence

Giving freedom and peace of mind

Supporting recovery – a digital approach to harm reduction

Stimulating education, learning and self development

Changing perceptions and challenging stigma
What's becoming clearer every day is how important it is to spread the word about these incredible initiatives, to use them as motivation, models and platforms off of which to launch more. Because we do need more.
Digital inclusion is a lifeline. Something no-one should have to live without.
You can see the full Get Connected report here – it's amazing by the way and so worth a read! And to hear about the scheme from the people who ran it and the people it helped, check out Simon Community Scotland's podcast episode.