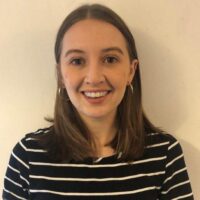 We're so excited to introduce you to Philippa Iwnicki, who is the new Manager for Greater Manchester Homelessness Action Network (GMHAN). 
Greater Together Manchester are hosting her post, and we're delighted to be part-funding it, along with Greater Manchester Mayor's Charity.
She's brilliant – and despite only being in the role for six weeks, she's already bringing together organisations and individuals across GM who are working to reduce homelessness.
Philippa's lived in Manchester all her life and has worked across a range of different sectors within Housing and Homelessness, most recently as the Research & Evaluation Lead for Inspiring Change Manchester. 
Already she's joined us in the office a couple of times – and her passion for systems improvement is infectious. She's very keen on getting out to see as many organisations in the ten different boroughs as she can, building relationships to maximise the impact of GMHAN's work. In fact – if you'd like to talk to her about a visit, give her a shout!
We're really enjoying working alongside you, Philippa – here's to plenty more future collaboration!