Nightstop Essex offers same-night, emergency accommodation for young people facing homelessness. 
This accommodation is offered in the homes of trained and vetted volunteers, who are supported by professional staff. This offers an accommodation option which may be more suitable for young people than traditional homeless shelters.

If you are:
Aged 16-25

Currently homeless

Sofa surfing

At risk of being made homeless
They can offer you: 
A safe place to sleep

A place to shower and wash clothes

Food

Support in securing further accommodation
Over the past year, Nightstop has supported 844 people with emergency, same-night
accommodation, keeping them off the streets and away from danger. With an increased demand this winter Nightstop is more vital than ever. If you would like to offer your support, or just find out more about how you might be able to get involved, please get in touch (details further down).
Safewait
A Safewait placement is for Nightstop guests who have been risk assessed by Nightstop Essex and may take place prior to or after a Nightstop placement. 
In many cases Nightstop guests have nowhere to go until they arrive at the host's home in the evening and likewise after they leave a host's home the following morning. A Safewait placement is designed to enable guests to stay in a volunteer's home for part or all of the day until the Nightstop host is available.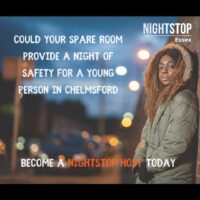 If you'd like to get involved in Safewait or Nightstop, please get in contact between the hours of 9am-5pm Monday through to Friday.
You can call them on 07929 750574 
Or email them at nightstop.essex@depaulcharity.org.uk