Southampton churches opened their buildings to those sleeping rough this winter with a new Winter Shelter.
They have recruited 160 volunteers to operate the service which runs at various churches in the city centre. It follows a city-wide partnership commitment to end the need for rough sleeping in the city. The Street Support partnership believes that, 'No-one deserves to live a life on the streets. We believe they deserve better.'
Paul Woodman from Southampton Street Support, explained:
'We are working hard to help churches open across the city on rotation – a different church each night over the worst of the winter. It's not as easy as it sounds – our insurers have to be satisfied that people sleeping overnight are safe and that our buildings are ready to use for the many activities that are run during the day for pre-schools and playgroups. We'll run a pilot this year and open our doors to people who are referred to us.'
Speaking from one city centre church, Paul Webber said, 'Above Bar Church runs a weekly breakfast for up to 100 people who are homeless and vulnerable in our building on Above Bar Street. This month, we have invited DentAid to bring their mobile dental unit to the church.'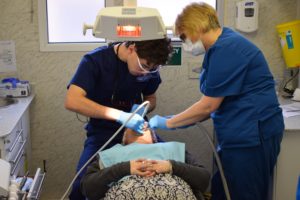 Naomi Roche from DentAid said, 'We know that many men and women, who are homeless, suffer from dental pain but they
often find it difficult to visit a dentist'.  Dental nurses will be available to discuss any dental problems and anxieties the patients may have and then they can be seen by the volunteer dental team on our mobile dental unit when it visits Above Bar Church on January 23rd.  The dental team can provide free, pain relieving treatments and oral health advice so that men and women in Southampton don't have to suffer the misery of toothache.
The churches' winter shelter will form part of a wider provision of beds to reduce rough sleeping in the city. Last year, over 30 organisations signed a Southampton Rough Sleeping and Begging Charter which said 'Our vision is for Southampton to be a city where no one needs to sleep rough or beg.' To achieve this, the Street Support partnership are inviting others to join with them in tackling the problem.