Christmas can be an incredibly stressful and emotional time for families who have experienced domestic abuse. You can help by supporting our Christmas Appeal
Christmas Appeal – Be a Lilac Fairy Helper
Each Christmas we make sure families we're supporting have one less worry; we gather thoughtful and appropriate Christmas gifts ready to give to women and children in our refuges and other projects. Our 'Lilac Fairy' delivers the gifts and she and her helpers make Christmas as special as possible for everyone.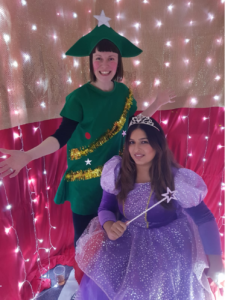 Get Involved
This year we've made it easier than ever for you to support us and be a Lilac Fairy helper. You can 'purchase' a gift via our website, and we'll source the gift and pass it on, making sure that it's something we know the child, teenager or Mom will love. You can also purchase something via our wishlist on Amazon – these will be delivered directly to our head office for distribution.
Organising something bigger?
If you are considering purchasing gifts to deliver to our head office instead, check out our gift guide first on the link below and please get in touch with us to arrange drop off as the Lilac Fairy starts distributing gifts in early December! Ideally we'll have your donations with us by Friday 10th December.
Check out the Christmas Gift Guide