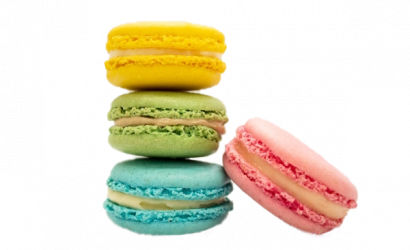 Macaroons that Make a Difference programme was developed as part of Miss Macaroon's work as a Social Enterprise. The scheme offers support for long-term unemployed young people, aged 18-35 years old, who have certain disadvantages when it comes to gaining employment. For example, some trainees are ex-offenders. Others have had a history of mental health issues, are on the Autism spectrum, have physical disabilities and in some cases, spent time homeless.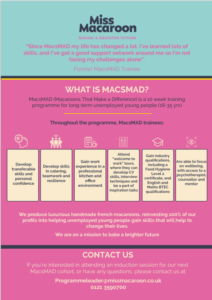 The programme is spread over 8 weeks, 5 days  a week where trainees are given the opportunity to develop their confidence and overcome their own personal challenges and barriers. They receive work experience, some of which occurs in our production kitchen, where they are mentored by our chefs. They're given counseling sessions and a psychotherapist, as well as a mentor for six months after the course ends.
They receive a Food Hygiene Level 2 qualification, a work skills BTEC and qualifications in English and Mathematics (can be done after macsMAD has finished ), a 5 year career plan and attend workshops centered around improving their CVs and interview skills. A really important part of the programme is the well being at work sessions provided by Sheila, our psychotherapist and counselor, supporting our trainees with anxiety and self worth. MacsMAD graduates receive help and support from their mentors up to 6 months after graduating.
100% of our profits go into funding schemes like this
We are holding an open day here at Miss Macaroon on 24/11/22
The address is:
Miss Macaroon
Unit 10
Octagon Business Park
Miller Street
B6 4NH
We will be holding tours, providing mentor talks from previous trainees and will do inductions for those interested in joining us. 
Refreshments will be provided.