As part of Manchester Homelessness Charter, various action groups were formed to co-produce solutions to issues that people experiencing homelessness face. One of those action groups is based at Centrepoint Manchester, focusing on issues young people are facing. This group have now formed the 'Youth Action Initiative'…
"A group of young people who have come together to encourage all young people, who have lived experience of homelessness, to have a voice."
The group are putting on an event for all young people experiencing homelessness.
'One Voice' is a night of music and entertainment for young people aged 16-25. It will take place at Manchester Central Library, St Peter Sq, M2 5PD on Wednesday 26th July from 6-8pm.
For more information please download and share the One Voice A4 Poster.
If you are interested in getting involved in the event or the action group, please contact Nadia or Mandy, or register your interest in an action group through the charter website.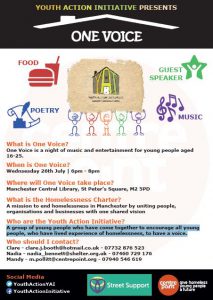 #EndHomelessnessMCR