The buzz was amazing from the word go.
At our Raising Bee Event last week, we split into teams, (Dev, App, Comms, UX). A fantastic mix of skills, experience, enthusiasm and personalities – all working together at breathtaking speed and ability towards a common purpose. (Missed it? Come to the next one!)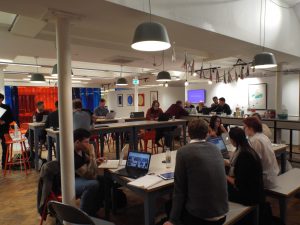 Talk about being thrown in at the deep end? I'm an adman from a previous century, but the Comms group provided the necessary bouyancy aids, made me feel welcome and freely shared their considerable knowledge and expertise.
And did we get things done? Oh yes. Articles written and promoted, ongoing projects discussed and actioned. Wonders to behold.
I feel proud and happy to be part of such an initiative. But enough gushing from me, here's what a couple of people said about the night:
Leon "It was nice to meet so many people from across the City bringing together different skills to help a common good, I also personally feel I learnt a lot myself about communications which I can bring forward in my own career, great night and glad I'm involved in this great cause going forward!"
Katie "It was so uplifting to walk in and see a room full of people who are all committed to having a direct, positive effect on fighting homelessness in Manchester.
Everyone was so friendly, there was a fantastic buzz in the room – it had all the energy of a digital hackathon, or a director's rehearsal room, and all that energy was being channelled into creating this new online resource. I'm already looking forward to going back next month."
So once again, thanks to everyone involved – not forgetting of course the fabulous people from CODE who once again offered their premises, their skills, their kindness and their pizza!
See you at Raising Bee IV – can't wait.