Southampton born artist James Early is one of the UK's leading hyper realism artists, currently painting out of the Arches Studios in the city.
His work includes powerful and emotional studies of homeless people, victims of war and religious martyrs. For this he was nominated for the BP award, The Royal Institue of Oil Painters and the Royal Institute Of Portrait Painters culminating in his work being displayed at the Mall Gallery in London. His sucess has continued into 2019 after winning the London Biennale in the summer of this year.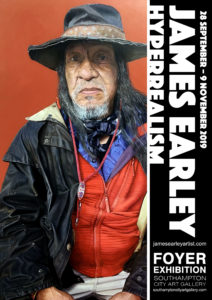 "I have often been asked why I paint homeless people or people on an emotional knife edge. From a very early age I had always wanted to paint a homeless person, I do not know why, why would a young boy want to sketch a homeless person rather than a still life, a landscape or a portrait of someone they know? I firmly believe that there are some questions that you cannot answer, sometimes your heart tells you something and you just have to follow it no matter where it takes you. This is how I feel. When I paint a still life or any other subject my heart is not there, yet when i paint a person that has the misfortune of constantly having to walk on a cliff's edge and whose emotions are stretched to the limit my heart beats faster, my emotions fight with the image, the image is the subject and it is me.
This is my calling. I have met some of the nicest and true people that I have ever met on the streets, people who smile and laugh when their physical and emotional pain almost forbids them. If i can raise awareness of this issue through my art then i am a truly happy man as I have achieved what I was told to do" James Earley 2019
His work is being shown at Southampton Art Gallery from 28 September to 9 November.