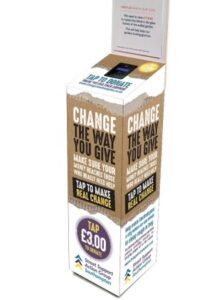 Homelessness is something we wouldn't wish on anyone. People in Southampton who are homeless and on the street are often wet and freezing cold and very vulnerable. They are at risk of verbal and physical abuse and have increased health risks. They are a very diverse group and are there for a variety of different reasons.
You can help those really in need by supporting the Change the Way you Give campaign by donating money via the contactless giving points in the city centre or online.  The donation points are now available in WestQuay, The Marlands, SeaCity and the central Library. Givers will be encouraged to tap to donate £3.
Donations will go to three projects selected by people with lived experience of homelessness in Southampton.
Welcome Packs – £20 funds a unisex pack containing: a change of clothing; a towel; toiletries; chocolate and orange juice. Your gift will make a good start to a safe and warm night. These welcome packs will be given out by local charities such as Two Saints who provide invaluable support for rough sleepers.
Furniture – Provide a positive start for individuals entering accommodation for the first time in Southampton. The donations will provide furniture for them.  The Society of St James provide a wide range of support to people from all walks of life experiencing homelessness, problematic alcohol or substance use and mental health problems.
Showers – Your donations will fund showers for young people in need at the No Limits centre in the high street. No Limits provides a caring environment, support, advice and awareness to the young people of Southampton.
Other projects will be supported in the future and you can find more details on the web page.