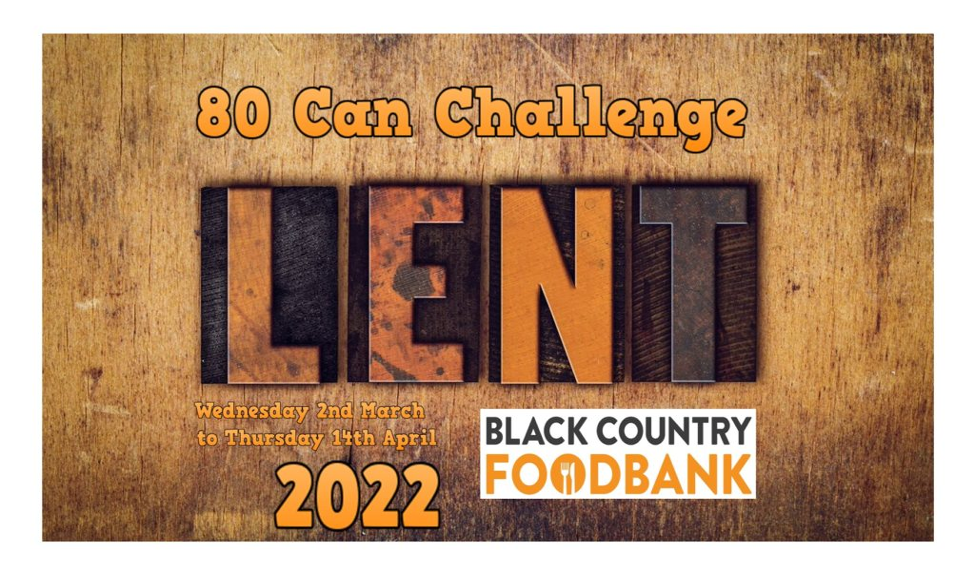 Do something different for Lent in 2022 – join in Black Country Foodbank's 80 Can Challenge!
Foodbanks are facing more pressure as energy costs soar, food prices increase and many face financial worries. We hope to be able to support people through these difficult times and can only do that with the incredible support we receive from our donors. Please join our 80 Can Challenge!
Lent lasts 40 days and 40 nights so we challenge as many of you as possible to collect and donate 80 cans/packets of food to Black Country Foodbank.
80 Can Challenge
Wednesday 2 March 2022 – Thursday 14 April 2022
This challenge can be taken up in the workplace, at school, in your church community, faith community, at home with your family or neighbours or in those clubs and societies that you are members of.
How you do it is up to you, but please be encouraged to take up the challenge!
For suggestions as to what you can donate please see the list below:-
1L CARTONS OF UHT MILK
1L CARTONS OF FRUIT JUICE (FROM CONCENTRATE)
JARS OF COOKING SAUCE
PACKETS OF MASHED POTATOES
JAM/MARMALADE
SMALL JARS OF COFFEE
TINNED FRUIT
TINNED MEAT (HAM/CORNED BEEF)
INSTANT NOODLES
SHAMPOO
SHOWER GEL
DEODORANT
SHAVING FOAM
TOILET ROLL
SINGLE TOOTHBRUSHES
TOOTHPASTE
HANDWASH
CAN OPENERS
Every single donation that we receive is vital so even if you can donate one item we would be really grateful.
All donations can be dropped off at the warehouse, any foodbank or any drop off point.
Click here for details of foodbanks.
Click here for details of alternative drop off points.
If you do collect a large amount then we can arrange to pick it up from you. Please email admin@blackcountryfoodbank.org.uk with plenty of notice, to arrange this.