How did you become homeless?
I'm a trans-lesbian woman and I was in a lesbian relationship. But she tried to assault me – I'm a black belt in jujitsu, so she never managed to lay a finger on me. But she kicked me out and binned all my clothes.
So, I was sleeping rough for three nights in a bus station. I simply became homeless because she kicked me out and binned all my stuff. I had no clothes and nowhere to go. It's frightening though, that things can happen that quick.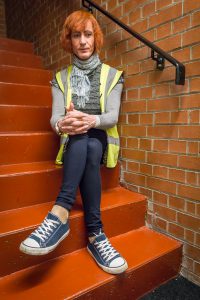 What were your experiences of life on the street?
Well I was on the street for three nights, but I wasn't really sleeping at all. I still went to work the next day though. But it was so tiring, not knowing where you're going to go and how you're going to hold your job up. And although there's plenty of places to eat, it's when that finishes – where do you go after that? Where do you go that's somewhere safe to sleep? When the cold would kicked in, I had to get up and walk to stay warm.
Where did you stay?
I was at the bus station, down near The Village. So, it was alright because it was quite busy at night over the weekend, it just looked like I was waiting for a bus. That was all until the Monday when I got to the council. They then had a duty of care to get me in a hotel and put me in a guest house.
What helped you get off the street?
Well I had my phone with me, so I searched online for soup kitchens in Manchester and found this place [Coffee 4 Craig]. I already knew Hendrix and Risha. They couldn't believe it when they saw me in the queue waiting, but they're the ones that helped me to get a new property. The support I've had off them two has been absolutely priceless.
What are your aspirations for the future?
At the start of this year, my target was to be on female hormones before Christmas; I started them this week. And now I start a new job on Monday and moved into my new flat yesterday. So, it's been quite a turnaround for me. My glass is always half-full and I'm just looking forward now to 2017.
I do a lot of volunteering too, for the homeless. I work with Coffee 4 Craig and Lifeshare, and it's so rewarding to give something back. You think your story is bad, then you heard somebody else's… there's always somebody worse off, it's just whether they're strong enough to get through it.
What would you like members of the public to know about homelessness?
You just never know. It could be you that next day. Just be thankful for what you have, as you don't know what going to happen tomorrow. I had a relationship and a job, then all of a sudden it was gone.
Interview by Joshua Strange. Photos by Paul Crudgington.